Given my total addiction to shoes, it's actually kind of surprising that I don't own any leopard shoes. Since they're practically a neutral print now, just sexier than your standard black or white, it's a good choice to stock up on for Fall. Leopard is quite tricky to get right though. If the color is off or the print isn't great (*cough* Banana Republic Ivonne Leopard Pump, sorry), then it just looks like a cheap pair of shoes. Luckily, J.Crew gets it of course, and I'm having trouble choosing between two great styles in this beautiful leopard hair calf material.
J.Crew Collection Harper Calf Hair Leopard Flats

I love that the front toe box of these are similar to that of smoking slippers, but it's pointy toe so it's flattering and chic. Plus they're flat so should be comfortable. Downside is I read that though J.Crew's flats tend to be true to size, they're not exactly wear-all-day flats unless you break them in. Once they stretch a bit with wear, they're much more comfortable. Not sure I'm ready to commit to a break-in period for any shoe; I've gotten a little too old and impatient for that kind of thing. One thing I know for sure, they're definitely more comfortable than heels. Get yours here from J.Crew.
J.Crew Collection Elsie Calf Hair Leopard Pumps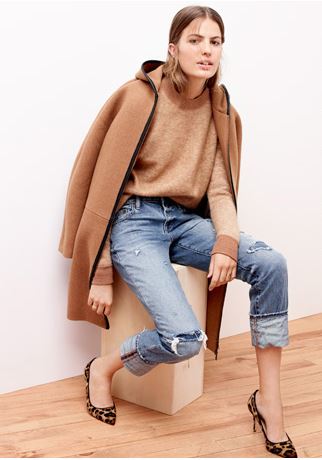 Just around the time I *almost* decided on the leopard flats above, I saw a picture of these leopard pumps on J.Crew's site. No doubt about it, any heel makes these leopard shoes instantly that much sexier. I thought to myself, that heel doesn't look that high, maybe it's do-able and comfortable enough for a normal workday at least. Then I read it's 3.5″. For many of you, that may be perfectly do-able but that heel height for me equals about maybe 1-2 hours of walking. Such is my dilemma! Which would you get? If you love these pumps, get them here from J.Crew.