J.Crew really has not been that exciting to me lately. I don't really like anything enough to go to the store to pick up or to make the effort to get tag-alongs for the free shipping online. I did place an order for a few things over the weekend, which I'll share in a preview thread tomorrow. But the highlight this week has been the Banana Republic Give & Get 30% promo, which finally lured me back into the clothes shopping world for a brief weekend. Here are the few things I picked up that I'm really excited about.
Banana Republic Silk Cascade Ruffle Shell – in both Sidewalk Gray and Bright Berry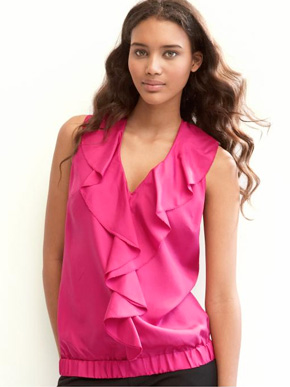 Silk ruffle tops are my new thing now. Love them, can't get enough. They are so easy to wear but look so professional. I can stumble out of bed in the morning, pull on a silk ruffle top and a random skirt off the hanger in my closet and I'll look put together. People at work even comment at why I'm so dressed up. It's pretty awesome.
Get it here from Banana Republic for $69.50 (but I'd wait for a promo!).
Banana Republic Pima Cotton/Wool Shawlneck Cardigan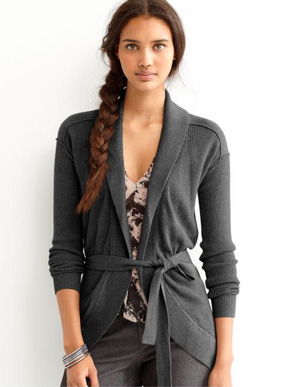 I pretty much bought this sweater out of my love and obsession with J.Crew's Palisade cardigan. That cardigan is perfect because it serves as a coverup/cardigan but loosely and casually holds the cardigan in place so the two sides don't flap whenever the wind blows. I hate it when that happens. I feel like an unwilling flasher. The one thing I don't like about the Palisades cardigan is that the material is so thin, it feels like it stretches out so easily and looks kind of sloppy at the end of the day. This cardigan seems to be slightly more substantial, so we'll see.
Get it here from Banana Republic for $89.50.
Banana Republic Leather Patch Pocket Jacket
None of you know me that well, but if you did, you would scoff at the fact that I bought this jacket. I mean, I just never pictured myself to ever wear a leather jacket; it just wasn't me. Then I somehow stumbled on this while I was browsing BR looking to maximize my use of this great promo. It looks right up my alley, even paired with a typical outfit I might wear. I thought about how I thought I was SO not a denim jacket person before I bought one from J.Crew and saw how unexpectedly adorable it looked on. I can totally look awesome with leather jackets and not even know it (probably unlikely…), just like a few of the reviewers on the BR site. So, at 30% off, I had to buy it if even just to confirm whether or not leather jackets work on me. Plus it always makes an order super exciting when you're buying something totally new and un-you.
Get it here from Banana Republic for $298.
ETA: Got the email of doom today – this jacket is no longer available and they are crediting back the full amount. BOOOOOOO.