I first saw the Honore Dress at the J.Crew in Union Square (NYC) while I was in line to pay for my Cobblestone Bracelet. I was instantly enamored but had no time to get out of line and try it on.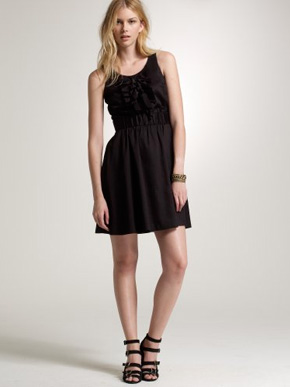 When I came back and looked it up online, I realized I've seen this stock photo before but totally bypassed it because it was so forgettable online. It's funny how some clothes look so plain online but so cute in store; it just means J.Crew didn't really bring out its beauty in their photos! Anyway, I finally got my hands on it today.
I'm wearing: Banana Republic Dahlia Wedges (now only $29.99!)
In theory, it's so my style. I love the poofy classic A-line shape of the skirt and all the girly details at the chest with the ruffles and rhinestones. In real life, I think you can immediately see why I couldn't help but cringe. It's so, so short. I'm 5'6 so if it's this short on me, not sure about girls who are even taller. I know this is more positioned as an evening dress, but I was hoping to dress it down enough to wear to work. Now that I see how short it is, it's pretty much over. Here's my attempt anyway at dressing this dress down.
I'm wearing: Banana Republic Dahlia Wedges (now only $29.99!), Banana Republic Wide Belt (similar here), J.Crew Equestrian Leather Belt
If this dress was a little longer, I would be all over it. The waist falls perfectly at my waist, so I feel like it is very flattering and really makes you look like you have a tiny waist with a nice hourglass figure. Super cute either with a wide or skinnier belt (though seems more flattering with a skinnier belt now that I'm looking at these pictures). Since you can't really see the detailing at the chest in these pictures, here's a close up:
The material is quite substantial and very nice. I got my usual size 6 and it fits fine everywhere except the chest…way too tight and nowhere near enough material for me. Perhaps if I size up a size, I'll gain some length and additional chest room??
Get it here from J.Crew for $128.