I was super excited to see an email from J.Crew announcing new arrivals for Spring. But…I'm not a huge fan of many of them. A few things caught my eye. One, they certainly caught on that the new trend is casual statement tees, especially in French, as they decided to release a bunch of them all with different sayings. Some combos seemed a bit random — i.e. Ca Va on a baseball tee? Odd.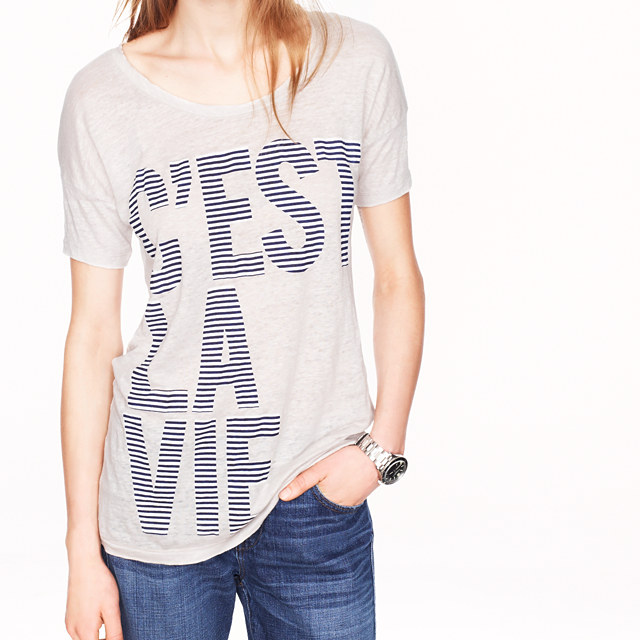 J.Crew Amour Tee (reminds me of the Merci tee..)
J.Crew Linen Baseball Tee in Ca Va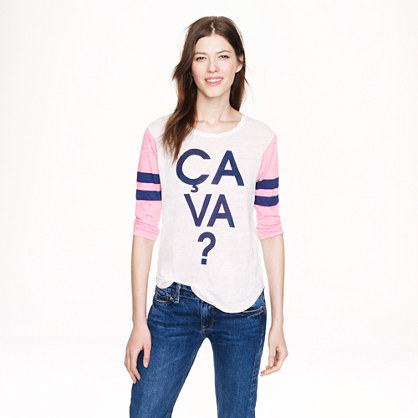 J.Crew Linen Baseball Tee in L'amour Triomphe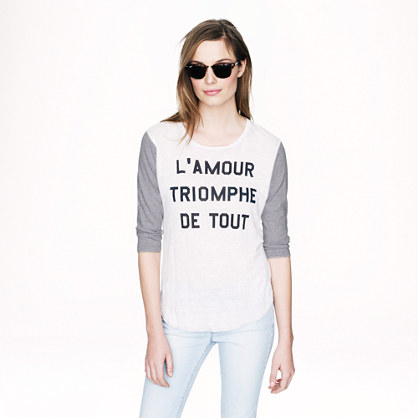 They also noticed the Double Crepe Fluted Skirt was extremely popular and added on two new colors — dark green and neon yellow. Why those two? I have no idea. I would've maybe chosen a burgundy or pale pink. Mmm, those would be pretty.
J.Crew Fluted Skirt in Double Crepe (Pale Citrus)
J.Crew Fluted Skirt in Double Crepe (Pack Green)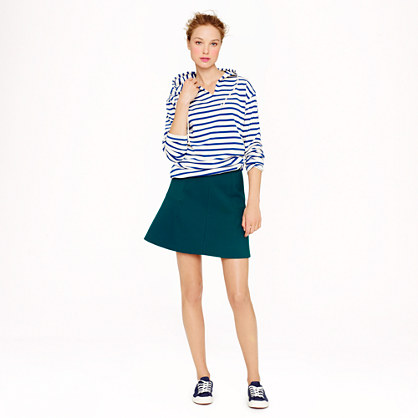 Interestingly enough, J.Crew also came out with their own version of the Madewell Transport Tote in English Saddle, calling it the Downing Tote. Since they're basically the same company, I wonder if it's the same leather and color? Sure looks like it. Some design differences I guess, but nothing significant. Also both are the same price. Also available in Deep Navy and Dusty Cobblestone (off-white).
 Also, it seems following their great success with the Claremont Purse, they've now released the Claremont Mini Purse. Have to admit, it is pretty cute. But where is the gorgeous red color? It's available in Black, Natural, and Sunbaked Orange.