As sad as it is to admit, summer is almost over. Sigh. I'm seeing lots of fall things already selling out quite quickly, so I'm pre-shopping now for fall in order to snag some items I think risk being sold out. The Ugg Abilene boots is one such item. They are made by Ugg so you know they have to be comfortable, and I love the fact that they are a twist on the classic slouchy suede boots.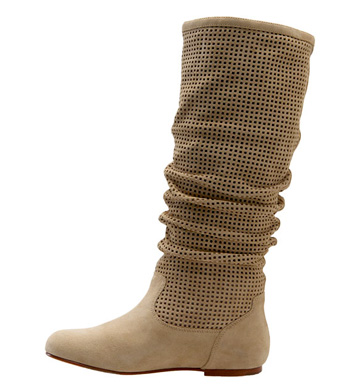 The calf size is supposed to be quite roomy at 15.5″, which is perfect for me and my big ol' calves. I was torn between the cognac and black color, but ended up with black as it was the safe choice.
I'm wearing: J.Crew Dress (similar here), Ugg Abilene Boots
The boots are not lined with sheepskin or anything furry, just plain suede. However, the sole is the typical Ugg furry sole we've come to know and love. Very comfy. You can't tell in the above pictures but the outer layer of suede have mini cutouts that add a slight edge to these classic boots.
I read some reviews that said to size up half a size to a full size, so I first purchased half a size up, but it turned out to be way too long in length. I exchanged for a 9, my regular size, and it fits perfectly. Some also complained about how it's kind of tough to get your foot in, but I didn't have that problem. Love these and I highly recommend!
Get it here from Nordstrom for $199.95.