For the mid-$100 range, the Banana Republic Adelia Pumps are probably among the sexiest, most comfortable, and overall best bang for your buck shoes out there for Fall. Both of my picks are called the Adelia, so let's start with the first.
Banana Republic Adelia Pumps, d'Orsay style
I've actually never owned a pair of d'orsay style heels, but they are really quite a sexy, feminine style. I love that these Adelia Pumps are quite simple and classic, and look like your classic pointy-toe pumps but with a twist. That little sexy opening in the middle that shows off your foot. 3.5″ heel, so they're doable, especially considering they're armed with Banana Republic's legendary memory foam cushioned insole. Get yours here for $138 (currently with extra 35% off or 40% off if you're a BR card member).
Banana Republic Adelia T-Strap Pump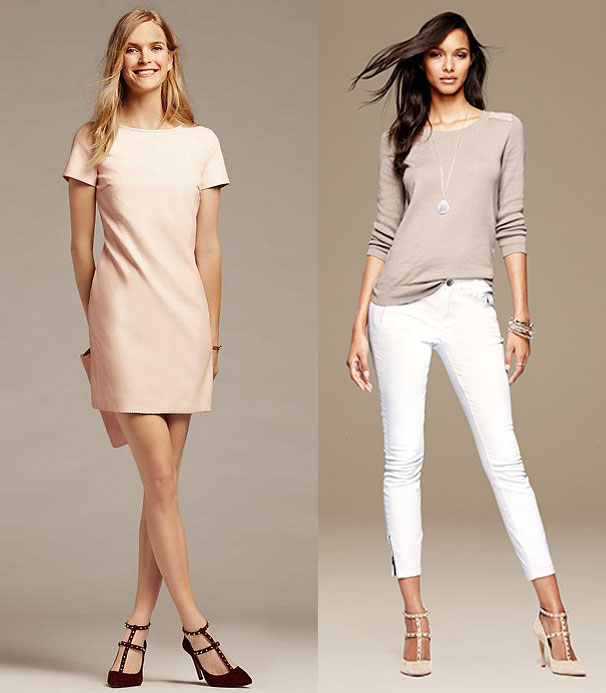 With these Adelia T-Strap Pumps, Banana Republic is definitely trying to get on the trend of studded, strappy pumps a la Valentino Rockstud style. Definitely can't blame them for trying; this style just oozes sex appeal and class at the same time. Not only is this Banana Republic version much cheaper, it also comes with their famous padding system, featuring memory foam and a cushioned insole. Definitely a good option for Valentino fans. Particularly love the Brindle nude color. Get your pair here from Banana Republic for $148 (currently 35% off, or 40% off if you're a BR card member).