Ok yes, I know, Banana Republic constantly has 40% off sales, but for some reason, recently I find many of their pieces to be quite cute, so let's pull them all together. Some may not be included in the 40% off sale, so always double check pricing in checkout! Let me know if you agree with my picks and if there's anything cute I missed!
Banana Republic Monogram Silver Sequin Mini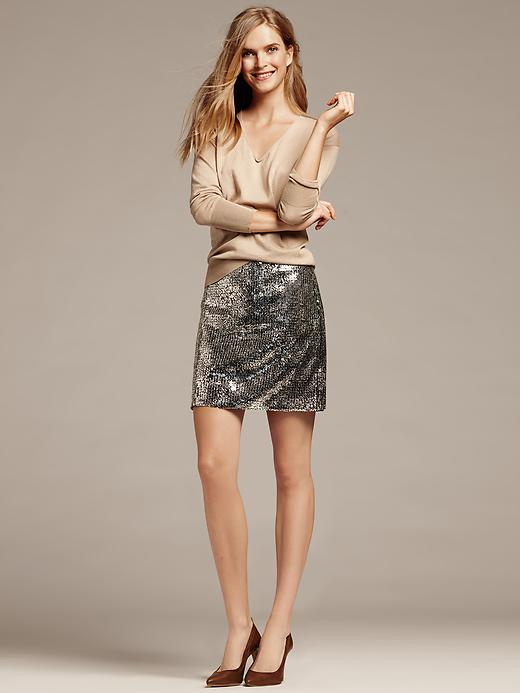 Um, how can anyone not love this? This entire outfit is sheer perfection. Casual, drapey sweater (Banana Republic Draped V-Neck Pullover), matched with this dressy-without-trying & blindly shiny skirt, and topped off with gorgeous, classic maroon pointy-toe pumps (try the Banana Republic Kelsey Pump). Get this silver sequin mini skirt here for $98.
Banana Republic Monogram Gold Sequin Mini Skirt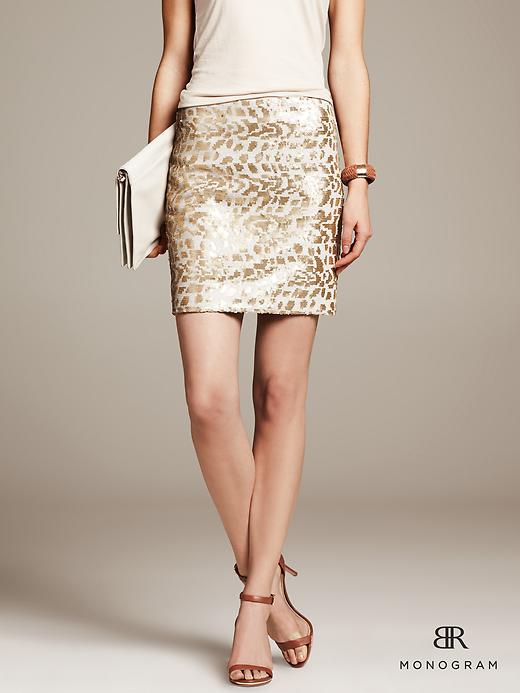 I don't know what's up with Banana Republic and their slew of sequin mini skirts lately…it's not the holiday season nor is it New Year's. However, I'm definitely not complaining. I can't get enough. I want my hands on almost every sequin mini they have. Dress 'em down with tees, dress 'em up with button-downs, they're the perfect day-to-evening skirt. This gold sequin mini skirt is on sale here for $49.99. Don't forget it's another 40% off of that today!
Banana Republic Monogram Silver Sequin Mini Skirt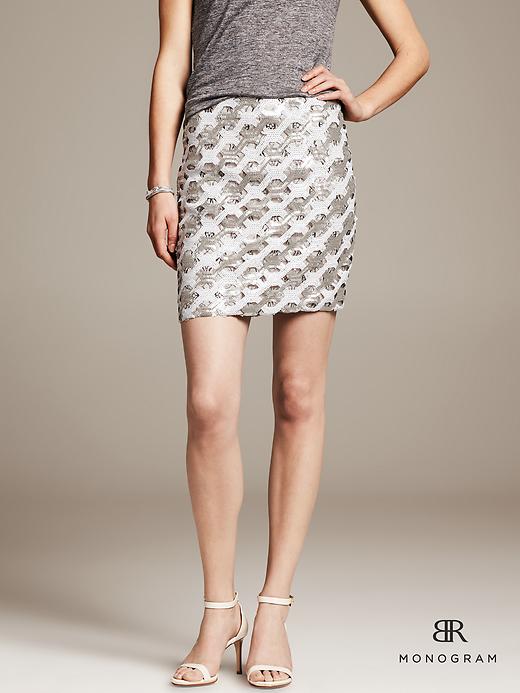 Yup, another sequin mini skirt. I like how complicated this one looks — very detailed, very expensive. Probably a good pick for Fall / Winter more than summer, but I don't care, it's on sale, it's pretty, so I'm getting it! Get it here for $49.99 (& another 40% off on top of that!).
Banana Republic Fitted Non-Iron Chambray Shirt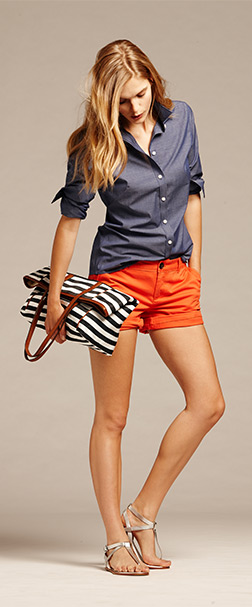 For some reason, I've never looked quite right in chambray shirts. I always feel like I look like a farmer or like a laborer…as weird as that sounds. But seeing this outfit, and seeing this chambray shirt paired with such a fun pop of orange and that striped bag, I realized maybe I've just been putting chambray shirts in the wrong outfits. This shirt/outfit is so casual, fun, yet polished.  Get your chambray shirt here for $59.50.
Banana Republic Chevron Stripe Tank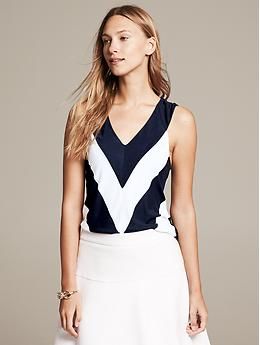 I've been obsessed with this top since the first time I laid eyes on it. Why? I can't really pinpoint. But I love it. It's so perfect for summer, especially paired with a white bottom. I'm not alone in loving this shirt, since it keeps selling out. Every day a couple of sizes pop back up and it's a mad scramble to check out. Oh and the price is uber reasonable, especially with the 40% off, at only $39.50. Check for your size here.
Ok, that's it for my picks for now — what are yours?