I've been on the hunt for elastic waist drapey pants for a while. Why? For those who have followed my blog for a while, I'm a big fan of looking polished and put-together while putting in the least amount of effort as possible. And remaining as comfortable as being in sweats or PJs. Tough requirements for most clothes. Enter the drapey pants.
Banana Republic Black Drapey Pant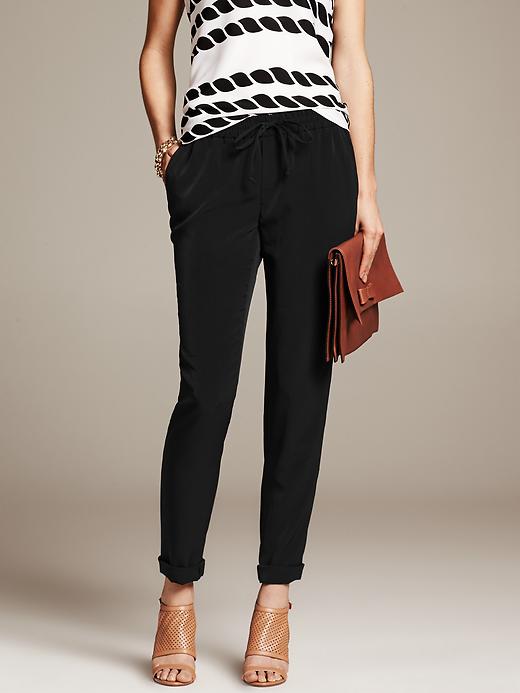 In classic black, these are super soft and loose fitting, while the elastic band offers plenty of room to breathe/move. It's like wearing sweatpants that can be dressed up or down. Love, love these. Get them here from Banana Republic for $69.99 (with extra 40% off on top of that!).
Alternatively, Banana Republic also offers drapey pants in Khaki, though they are part of the Heritage series and not on sale. Still not expensive if they're more your cup of tea, and also still included in the 40% off purchase promo. Get the Heritage Drapey Pants pictured below here from Banana Republic.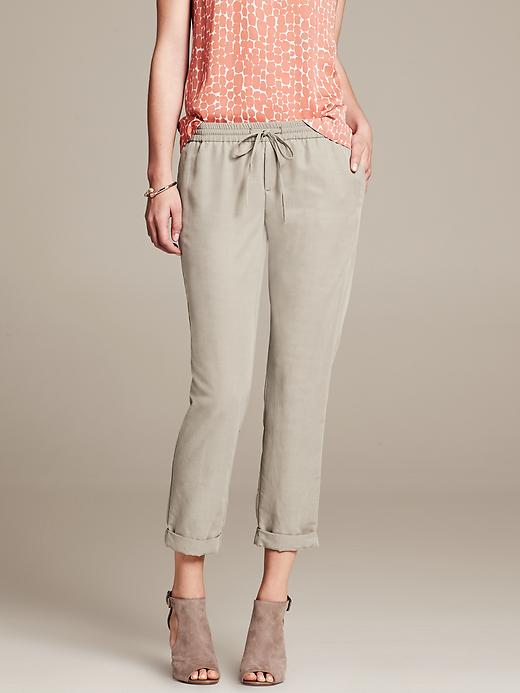 Kut from the Kloth Elastic Waist Pant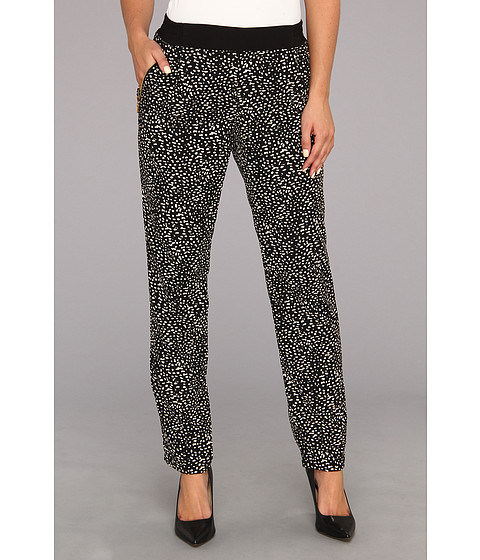 These are cut slightly too long at 31″ inseam, for me at least, but not a big deal if you're wearing heels. I love that these are a cool print, but still in a pattern neutral enough to match a lot of tops/colors. What I love most, however, is the funky gold zipper pockets on the side. Cool detail.
Best of all, they are dirt cheap. On sale for just $26.99, down from $78, available here from 6pm.com.
These are just adorable. The print is very chic and expensive looking, yet the price is very digestible at just $135. Sizing is XS through Large. Throw on a simple tank just like this model has, along with a few layered gold necklaces, and you look more polished and chic than probably 90% of the people out there. Get yours here from Shoptiques for $135.
J.Crew Collection Cropped Pant in Medallion Floral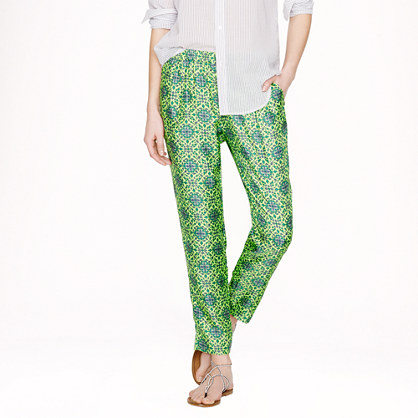 Yes, these are a little out there. But for 100% silk + elastic waist, they are super comfy and airy, perfect for the summer. Just like the Velvet pants, I'd pair with a simple white tank or tee, sprinkle in a couple of gold jewelry pieces, and let these pants be the statement piece. Is it just me or is the price very reasonable also? Surprisingly so for J.Crew Collection. Get them now here from J.Crew for $119. I believe they are also included in the extra 40% off sale, even though they are not final sale.
Choies Geometric Print Elastic Waist Harem Pants
Ikat is always very chic to me. I love that these combine multiple ikat patterns, but in such a way that it's not a huge mess and too much going on visually for anyone to process. They're visually interesting but can also serve as a neutral. Would love to pair this with some pops of red or gold. At this dirt cheap price, I wish they made multiple colors. Get them here from Choies for $20.69.