I've always had a thing for skirts. First of all, they're much more comfortable than pants or jeans. When you wear a skirt, there's a lot more freedom to move around. Second, skirts feel a lot more feminine than pants and always looks like you tried harder. Third, you can pair any shoes with skirts — flats if you want to be comfortable or if you're walking a lot, and heels if you want to go for a dressier look. With jeans or pants, let's face it, all of them out there – especially the designer ones – are made at a length fit for supermodel legs. I don't have mile-high legs. So I always have to have them tailored, which is annoying, and even then, wearing flats with jeans always made me feel like I looked stumpy. Sure, heels with jeans is a lengthening look, but who wants to wear heels all the time? So for now, I'm sticking with skirts. They can be casual or dressy, so there's always one right for each occasion.
J.Crew No. 2 Pencil Skirt in Geometric Print – Navy – $148
J.Crew No. 2 Pencil Skirt in Geometric Print – Navy
Whoa, this is a high-impact skirt. I've rarely seen prints as unique and cool as this. The purple really pops against the dark navy. This is definitely a statement skirt, especially in the sleek and crisp pencil skirt shape, meant to look bold and fun yet professional. All other clothes and accessories should be subdued to let this skirt really shine. This is still a bit lower on my wishlist though, mostly because my favorite items are ones that are truly versatile — ones that can be dressed up or down, and easy to throw on yet still look put together. It's hard to really dress down pencil skirts and they're not exactly what you'd lounge around in on a casual day at the office. Still, for anyone who wears pencil skirts, this is a winner. Get it here from J.Crew for $148.
J.Crew City Mini in Dublin Tartan – $98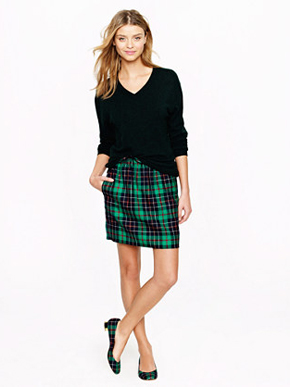 J.Crew City Mini in Dublin Tartan
This is another must-have for me. For anyone who knows me, you'll know that I've basically stocked up on all colors of J.Crew's City Mini Skirt and have been wearing them in rotation like they're my uniform. In my eyes, they're the perfect skirt. Perfect length for the 5'6 me. Crisp wool to look dressed up. Pull-on style with elastic waist so it's super easy to wear and very comfortable. I love mixing and matching all the different colors with all the colors I bought vintage cotton tanks and tees in. Yes, it's that easy. Throw on a neon yellow tee with a cobalt blue City Mini and you look chic, bold, yet it's effortless and super comfortable. With winter coming up, I plan to add blazers and jackets (instead of hoodies and summer cardigans), along with tights and boots. Definition of versatile. Anyway, this skirt combines my love of plaid (especially holiday plaid) with my favorite City Mini skirt style. It's a no-brainer for me! Get it here from J.Crew for $98.
Old Navy Jersey Pencil Skirt – $15 (on sale from $25)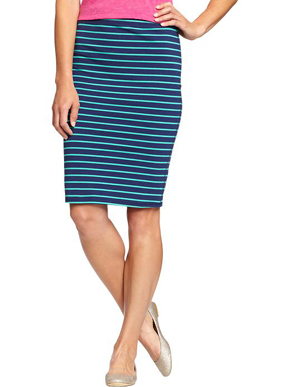 Old Navy Jersey Pencil Skirt – Teal Me Again
I bet you're starting to notice a trend. Yes, I love easy-to-wear, comfortable clothes that are versatile yet look put-together. I love the look of pencil skirts but hate that they're so constricting and rigid…and so formal. It takes some effort to pair it with clothes and accessories that dress them down a bit so you don't look as stuffy. Enter jersey pencil skirts. How perfect? Pencil skirt style, knit jersey comfort. These received over 150 4.5 star reviews on Old Navy, so even though I haven't shopped Old Navy in ages, clearly their shoppers think like me. At just $15 a pop, this is one I'd stock up on in every color. Too bad everyone else also thought so and bought all the solid colors and many of the prints. Boo. Three colors are left though, so snatch 'em up!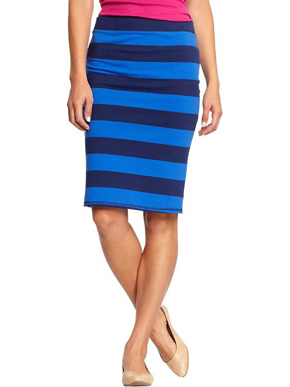 Old Navy Jersey Pencil Skirt – Blue Tango
Old Navy Jersey Pencil Skirt – Sashimi
Banana Republic Striped Ponte Knit Skirt – $44.99 – $79.50
Banana Republic Striped Ponte Knit Skirt – Ivy League Green
 Look familiar? Yes, Banana Republic did a more "upscale" version of these popular jersey pencil skirts. Only difference I see is that they're more a mini than a pencil skirt…? And paired with dressy accessories/top? Either way, if you've missed out on the Old Navy versions, these are cute replacements. 13 4.5 star reviews on Banana Republic — pretty good! And 19″ is a great length. Get it here from Banana Republic for $44.99. Or try True Navy below for $79.50.