This is the time of year when the holidays start inevitably creeping into your life everywhere you turn. People are starting to play Christmas music and every shopping channel is telling you to "buy now" for gifts. So of course, as someone who never needed a push, I'm back into full shopping mode. And goodie, this year there is so much temptation everywhere. Here's what I've found just from a cursory browse online — starting with shirts.
J.Crew Boy Shirt in Grey Tartan – $88
J.Crew Boy Shirt in Grey Tartan
Ok, I'll admit it. I'm a HUGE fan of plaid. I don't know what it is, but I love that plaid looks so casual yet put together, especially in the form of a button-up shirt. When paired with otherwise dressed-up clothes, like these white pants or a crisp pencil skirt, the plaid screams casual and effortless yet the outfit looks very put together. I've seen plenty of plaid color combinations, but I haven't really seen grey and red being paired much together. What a combo! Pairing a neutral with a bold pop of color = instant winner in my eyes. Get it here from J.Crew for $88.
J.Crew Boy Shirt in Poppy Plaid – $88
J.Crew Boy Shirt in Poppy Plaid
 Ugh, love this shirt. The color combination is so bright, it's almost blinding. It would've been overkill to do it in a larger pattern, so to counterbalance the color with smaller checks feels just right. I feel like whoever wears this would instantly stand out without even trying — at least it'd draw my eye! Perfect for layering also — what great colors to peak out under a neutral color blazer or sweater. Love!  Get it here from J.Crew for $88.
J.Crew Perfect Shirt in Tartan – $78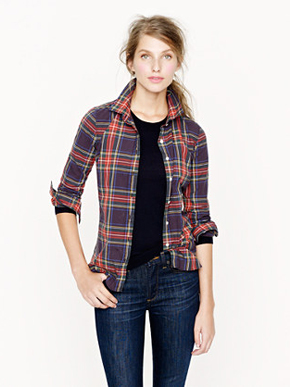 J.Crew Perfect Shirt in Tartan
This picture doesn't do this shirt justice. I believe this is the same shirt as one released last holiday season — the one that sold out so quickly I was calling everywhere to try to find one in any size. I ended up buying a lookalike on J.Crew Factory but always felt like I missed out on the real thing. The fit just doesn't seem to be the same. Anyway, this shirt, like all these plaid shirts I love, is amazing because it is so effortlessly chic and versatile. It can be unbuttoned and thrown on with a simple tank and jeans, or dressed with a belle-of-the-ball fancy skirt in an outfit perfect for the holidays without being overly-holiday-y.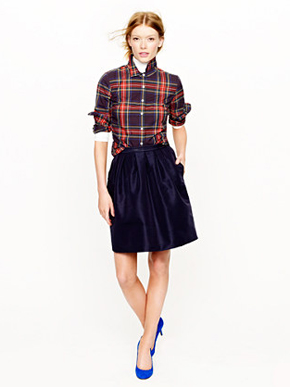 J.Crew Perfect Shirt in Tartan
J.Crew Perfect Shirt in Buffalo Check – Red – $88
J.Crew Perfect Shirt in Buffalo Red Check
I. am. so. obsessed. with. this. shirt. Okay, maybe I have an unhealthy obsession with buffalo plaid – especially in the red and black combination. This shirt's been sold out in most sizes for the longest time but looks like they recently restocked. I'm so obsessed I have this loaded in my cart and ready to check out any minute. Again, maybe it's the inherent contradiction in this shirt that I love so much. Buffalo plaid is traditionally and mostly associated with rough and rugged lumberjacks out on some farm somewhere, yet J.Crew has taken it and transformed it into another casual chic shirt. The styled look above probably says it all – she's wearing the shirt so casually like she just threw it on, but it looks great with the comparatively more formal long skirt. This is an absolute must-have for me. Get it here from J.Crew for $88.