I've been working on a small DIY project the last couple of days. The genesis of the project was that I simply got tired of not finding my ideal Fall/Winter coat. I can buy all the super cute coats in the world (like the 3 I'm obsessing over at J.Crew), but I'm still missing my basic, classic, go-to coat. I've always pictured it to be a trench coat since they are so flattering, but I've been bored to tears by all trenches I've seen. The problem is they all look alike! I slowly realized what I was looking for was a classic trench with better and more interesting detailing, aka gold hardware. Something like this: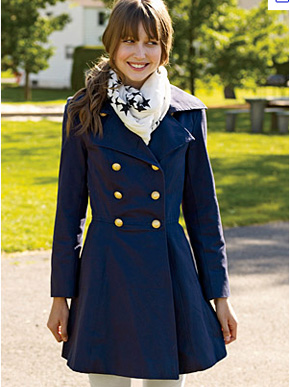 I hope I'm not alone with my obsession with gold buttons on clothing, but it just adds that "military/trendy" edge to a classic, flattering coat. Then I found a very classic, high quality trench coat with a great fit (and rave reviews) at Banana Republic for a very reasonable price – the Classic Trench.
And I thought – HMMMMMMM….cue wheels turning in my head. If I just swapped out all the drab buttons on this coat with cute gold buttons of my choice – which wouldn't be too difficult of a tailoring job – I can make my own ideal coat instead of waiting around for some designer to pump out some overpriced version of it. Here are my modeling pictures of the coat in its original form; pictures are a bit blurry, but you get the gist.
It looks like a typical trench coat to me. I wouldn't go gaga over it. Then I set out to find the perfect gold buttons that I can order online. Since this coat is a rather light coat and not a heavy wool coat, I didn't want to go with thick, engraved military-style buttons; rather, I picked some simple, thin shiny gold buttons. Cost me $40 to replace the entire set.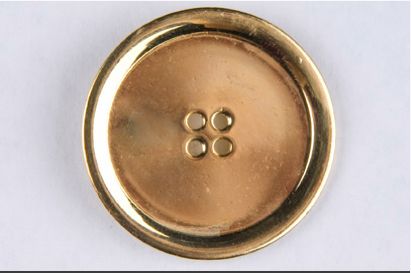 It wasn't all that hard to replace all the buttons. I bought a simple sewing kit for a couple of bucks at Duane Reade and worked away at it, button by button, for a few nights. The result is definitely a much cuter trench coat. To me, at least!
The coat comes with a belt, but the belt blocks the middle row of buttons and I'll be damned if I let that belt block buttons I worked nights to sew on! It's also a VERY long belt, so it kind of just hangs to the side like a tail, which I'm not a fan of. Anyway, I think this was a success, and if I ever get bored of this coat, an easy way to update it to look like a new coat is to change up the buttons! Have you guys ever done this with any clothing? I'm just hoping I did a good enough sewing job so buttons aren't poppin' off when I start wearing this out in public. Here's an official last shot of what I'll probably be seen wearing 95% of the time this season – this coat and my favorite plaid scarf (similar here)!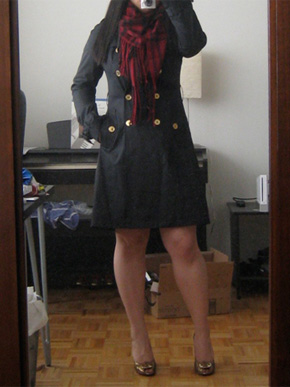 I purchased this trench in a Medium and though it's slightly loose through the mid-section, once I start layering with cardigans and whatnot, it'll fit perfectly. Plus this material is one of those shiny, stiff materials, so the fabric can look easily pulled, so I would err on the end of going bigger rather than smaller.
Get this trench coat (sans the buttons) here from Banana Republic for $198.