I think I've mentioned this before, but I've always had a bias against dress shirts because I just never know what size to take in them and I never know how they will fit at the chest. That little gap can be quite annoying. Ever since I bought a couple gingham shirts from J.Crew though that fit beautifully, I've been dipping my toe in the water gradually. What better place to start than with a classic – basic white shirt – aka the Essential Boyfriend Shirt from Banana Republic.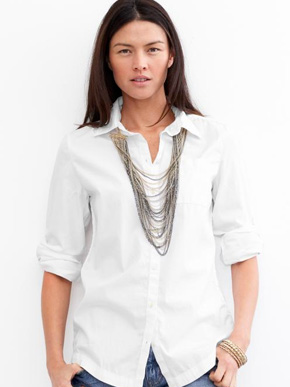 Well, the material is thinner than I imagined, but it's not too thin. I don't think it's see through, at least not to me. It fit me everywhere just like I'd want it to fit…all except for the arms. Geez. This is the tough thing with dress shirts or shirts in general. There is zero stretch. If it doesn't fit you perfectly everywhere, it doesn't fit you. Apparently yes, I know, my arms are disproportionately large or something, but c'mon. Getting tired of it. Love this shirt but has to go back because my arms are just busting out. Bah.
I'm wearing: Loft Wide Braided Belt, Banana Republic Cotton Pleated Skirt, Tory Burch Julianne Wedges
Well, the hunt for the classic white shirt continues. In the meantime, how the hell do I work down these arms? I wonder if they somehow grew in size recently or I'm just experiencing some terrible luck with my recent purchases.
Get it here from Banana Republic for $59.50.