The Pima Cotton/Wool Shawlneck Cardigan from Banana Republic is really a pretty flawless sweater. It drapes nicely, it's extremely soft and comfortable, and you can belt it so that the sides don't flap in the wind.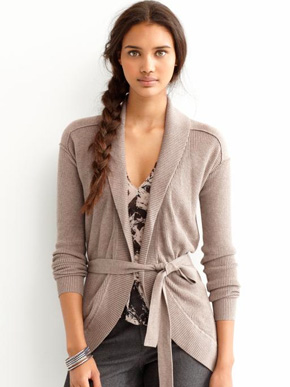 I have nothing to complain about really…but I just don't like it. I'm not sure why. Something about the rounded bottom on each side that bothers me. Somehow it just looks unflattering to me and feels like it makes me look round. Probably not the case but I couldn't wait to take it off. Very strange.
I'm wearing: Loft Multi-Tier Shell, Banana Republic Paper Bag Skirt, Tory Burch Julianne Wedges
Anyway, it seems very popular as it's quickly selling out. Lots of rave reviews too. So it's clearly just me!
Get it here from Banana Republic for $69.99 (currently on sale!).