I know Ann Taylor Loft and Banana Republic tend to keep some kind of "amazing" 40%-50% off sale on their site at all times, so this 50% off one at Loft last night was no biggie. However, I haven't visited the site in a while so I saw a few goodies I "had" to have & the 50% off was a nice bonus.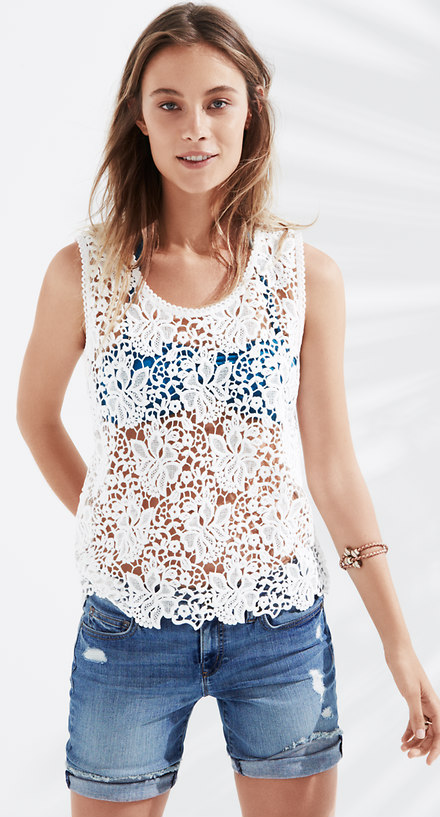 I fell in love with this top at first sight. Why? I asked myself that. I don't own anything like this. This top's lace pattern is very primp and proper, almost very traditional goody-two-shoes type of English lace, but given there's no lining, it's concurrently very sexy and feminine without revealing too much. It's also in the perfect white lace color, allowing you to add in fun pops of color with bikini tops or camis underneath. You can pair with solid color camis underneath also for a more seamless, demure look. Great with jeans on the beach as a coverup, great with a cami underneath and a pencil skirt for the office. Love, love, love. This for me is a must have. Get it here from Ann Taylor Loft at $69.50 (don't forget to catch a % off deal!).
Ann Taylor Loft Colorblock Ponte Skirt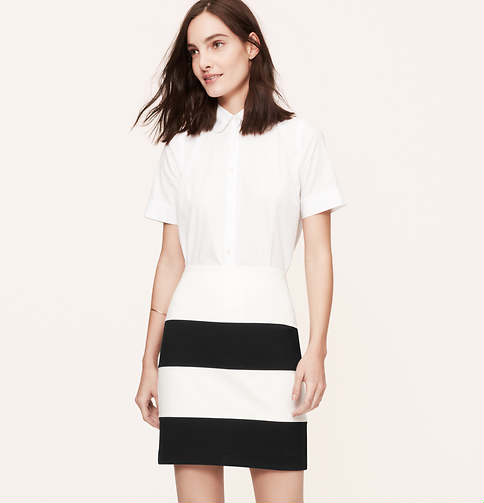 Also fell in love with this colorblock ponte skirt at first sight. Something about taking a classic pattern like a black & white stripe and blowing it up is very bold, yet simple. And very on trend. Reminds me of partially why I love the Banana Republic Chevron Stripe Top. Plus after reading the rave reviews about how this is so comfortable and stretchy, yet flattering, I could not leave without it. Get it here from Ann Taylor Loft for $49.50.
Ann Taylor Loft Tile Embroidered Riviera Shorts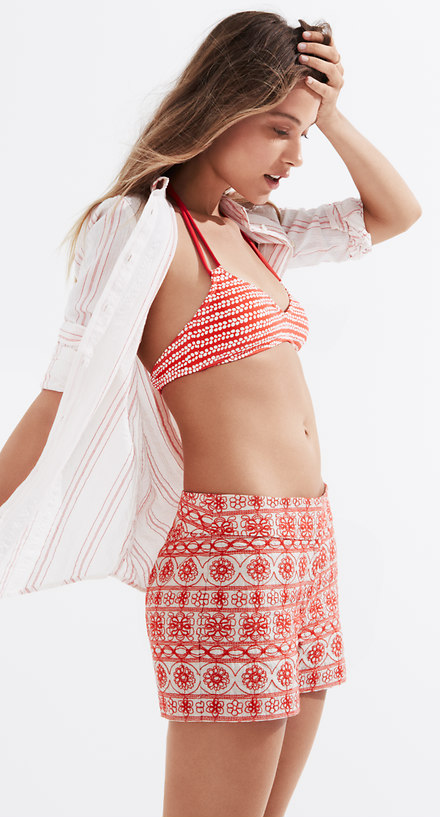 These Tile Embroidered Riviera shorts and that top aren't the same print, but somehow they work so well together. I love that. I'm still learning how to mix and match prints, and it still surprises me how stylists out there can put together pieces that we may think won't go but go oh too well together. These shorts are perfect for the beach, but throw on that also matching beach shirt over the top and you're set for that lunch date or shopping with friends. Love the pattern, love how it's so summery, and love the entire outfit. Best of all, only $22 right now. CRAZY good deal. Get the Beach Sea Vine Print Halter Bikini here, Tile Embroidered Riviera Shorts here, and Surf Stripe Softened Shirt here.
Ann Taylor Loft Beach Double Strap Wrap Dress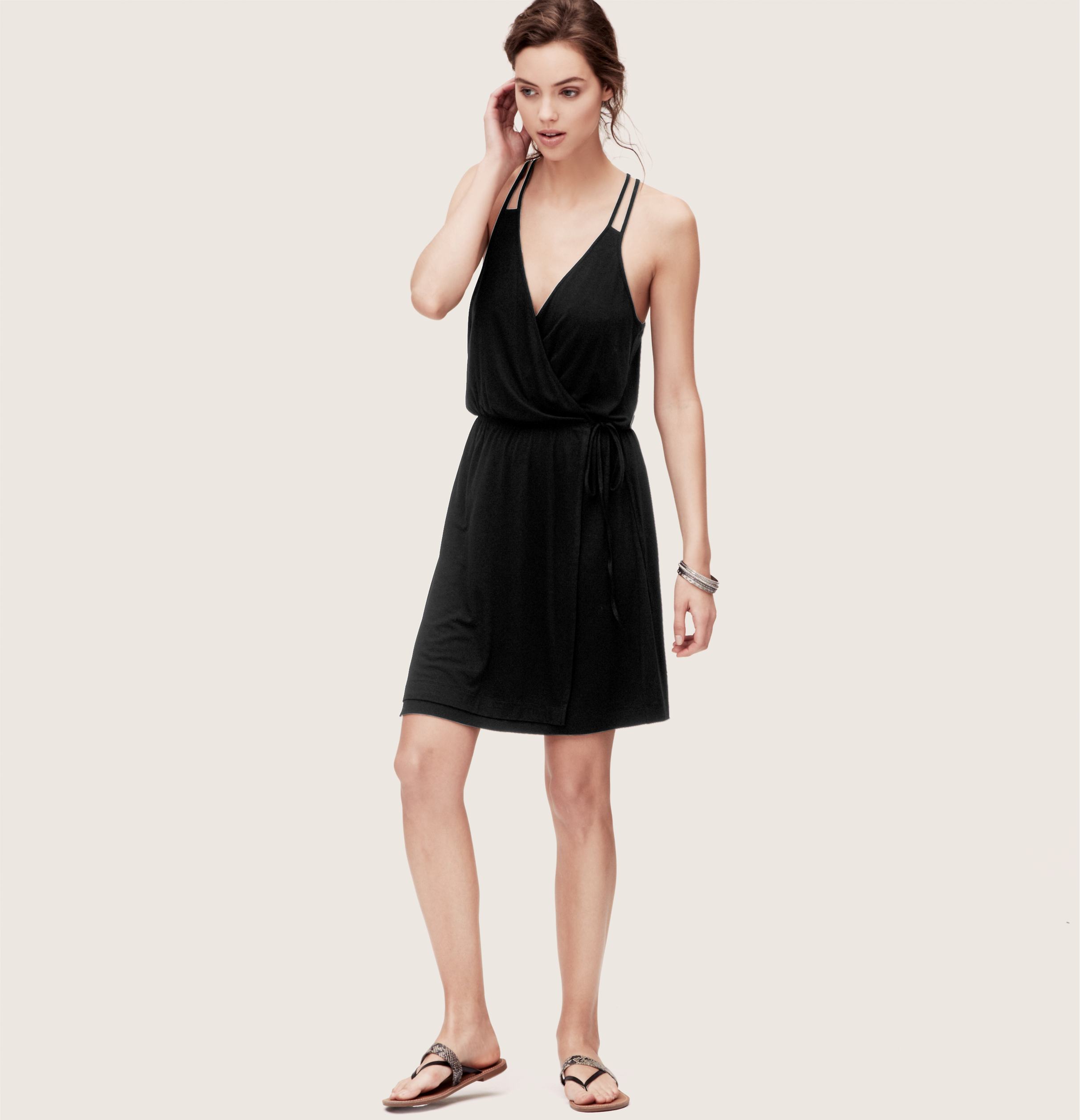 Speaking of beach, this dress is one of the cutest cover-ups I've seen this season. It's so simple, so laid-back chic, yet "sultry" (Loft's words) and best of all, comfortable. Beyond just the beach though, this dress would be very cute in any casual setting. Throw on a cami or strapless top underneath or even just add a pop of color with a fun strapless bralette. So many ways to make it look effortlessly fun. Also love it in the Emerald Isle color.  So summery.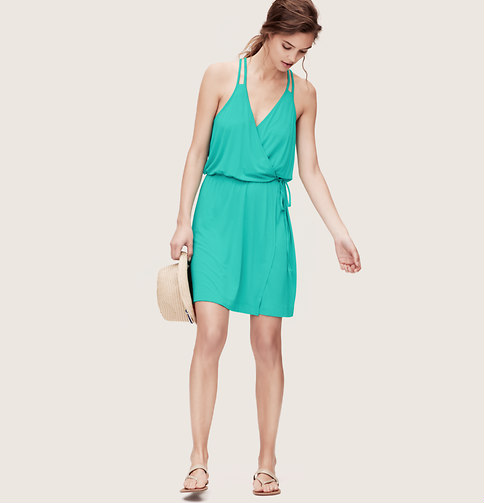 Get these lovely dresses here for $49.50. They're an online exclusive.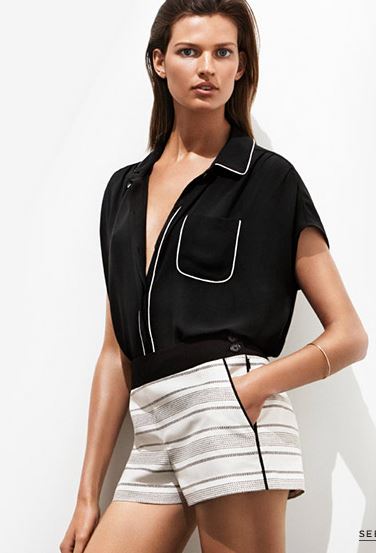 Something about this top speaks to me. It looks so serious, so polished, yet unbutton the top and throw a cami under and suddenly it has a whole different vibe. Love the piping, and love how they paired it with an equally serious / polished pair of shorts, both neutral, then added a simple, elegant gold bangle. Classic, simple, effortless, and sexy. Get it here for $44.50. PS it has rave reviews (as do all my other picks here).