It's my favorite time of the year again — 'tis the season where 5x more options open up for accessorizing and layering. It's funny; every Fall I feel like nothing in my closet work anymore & I feel compelled to start my Fall wardrobe anew. Does anyone else feel that way? All summer I've been living in my tee shirt + J.Crew City Mini skirt uniform (hey, it's easy = perfect for the lazy girl yet professional-looking-ish), but rather than just throw on some tights and boots under it for Fall, I'm trying to challenge myself to think outside the J.Crew box. Here are a few things I found from Anthropologie that I'm loving:
Anthropologie Strata Dress – $198
 Anthropologie Strata Dress, Alta Mary Jane Booties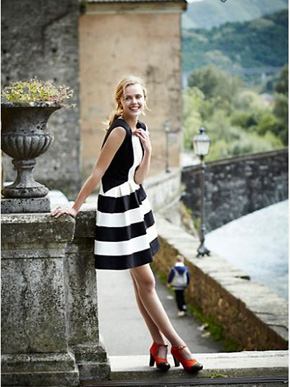 Anthropologie Strata Dress, Alta Mary Jane Booties
Black and white is one of my favorite color combinations. It's so striking and elegant, but serves as a great canvas for any pops of color — for example, these super school-girl preppy-chic red Mary Jane Booties. And how cute with this adorable, bright-red Montmorency Cherried Beret or Color Report Cowl in red? Perfect for Fall/Winter. Best of all, this design is super slimming/flattering — the white panel is designed to draw the eye vertically down, then the skirt perfectly flares out from your hips, further accentuating the contrast with your waist, thereby giving you a little help in making it look a bit smaller (and we could all use some of that kind of magic!). It's so cute I'd even layer on a sweater on top and wear this just for the skirt! With 51 almost 5-star reviews, this dress is pricy but almost completely sold out, so snag your size now from Anthropologie.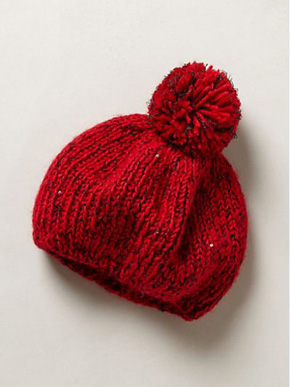 Anthropologie Montmorency Cherried Beret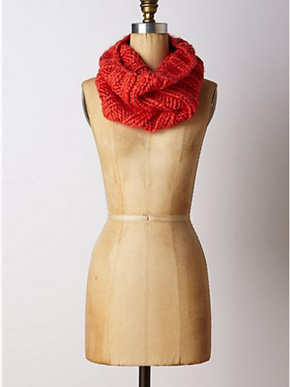 Anthropologie Color Report Cowl – Red
Anthropologie Ponte Bell Skirt – $128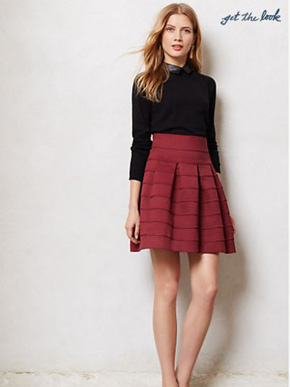 Anthropologie Ponte Bell Skirt – Wine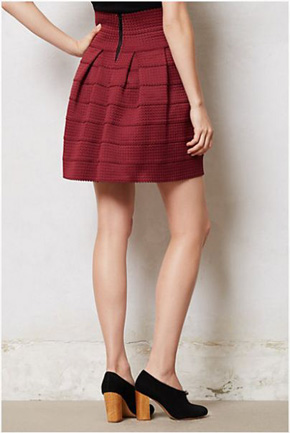 Anthropologie Ponte Bell Skirt – Wine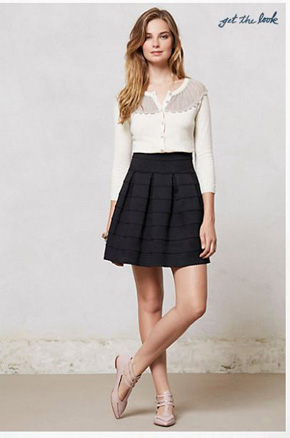 Anthropologie Ponte Bell Skirt – Black
Anthropologie Ponte Bell Skirt – Red
With a similar fabric and style as the Strata dress, this skirt is meant to poof out from your lower body and, according to the site, create an instant "itty-bitty" waist. Icing on the cake? The material is super comfy, elastic and stretchy, and feels significant enough to be a Fall staple. 33 almost five-star reviews can't be wrong! A bit pricy at $128 a pop, but I think this is worth the investment. I'll be picking it up in all 3 colors! Get them from Anthropologie here for $128.