*Cough* I'm sick! Ugh, I hate this transitional period between seasons. I never know what to wear. By the looks of people on the street, I'd say I'm not alone. Some people are in tanks and flip flops, others are in coats and boots. Inevitably around this time, I always catch a cold or at least a sore throat because I lean towards being underdressed than overdressed for some reason. Anyway, I realized today between my coughing fits that I forgot to post about this cute Tipped Belted Cardigan from Ann Taylor Loft.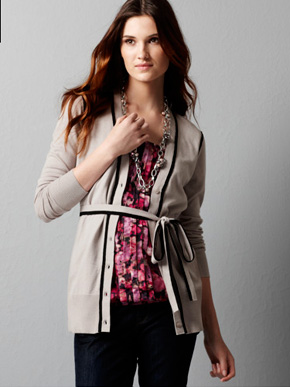 I've seen tipped cardigans a lot this season. I think it adds an interesting but not detracting detail to what would have been an ordinary cardigan. There's also a lot of room to play around with the colors. This particular cardigan is rather thin and running slightly small for me…particularly in the arms.
I'm wearing: Loft Multi-Tier Shell, Banana Republic Paper Bag Skirt, Tory Burch Julianne Wedges
Still super cute, especially now that it's on sale for $39.99 (in case you missed the latest Buy 1 Get 1 50% off promo).
Get it here from Ann Taylor Loft for $39.99.