I'm so not a girly girl by nature, which is why I sometimes find some ironic amusement in dressing girly. If you're like me though and you don't want to go full out with the girliness, a touch of lace can do the trick. That's where the Silk Lace-Front Shell from Banana Republic comes in. Not exactly a silk ruffle top, but close enough and also different enough from the ones I already have.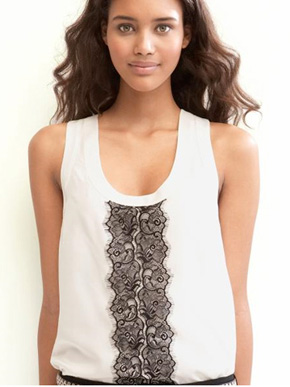 I love that this top can be dressed up and down, that it can look fancy but then you can also throw it on with jeans. Here's what I didn't love…boob smashing!!! Gahhh. Is my body just so weirdly disproportionate that either my arms don't fit or the girls don't fit? I don't understand. I first got a Small and it fit perfectly…but the girls were so smashed I could barely move. I exchanged it for a Medium, seen here, which STILL smashes the girls but at least it's wearable.
I'm wearing: Loft Chunky Tweed Mini Skirt, Naya Irina Wedges

I will just have to wear this layered…maybe under a cardigan or blazer. Probably not a stand-alone for me. This top is sold out in the color online, but there's plenty in stores. The black version is also very pretty.
Get it here from Banana Republic for $44.99.