I popped by Banana Republic at Rockefeller Center yesterday, picked up a couple of things, went to the register…and got everything for the amount I expected to pay for one. Apparently, somehow they are having some unmarketed secret 40% off everything "Pre-Fall" sale for cardholders which was not announced anywhere in the store…so I picked up a couple more things of course. May even go back today for more! The Cotton Pleated Skirt is one that's been flying below the radar for me; it looks like yet another typical BR skirt, and with all the mixed reviews on sizing and coloring, I've been passing on it. Now that it's $39.99 and an extra 40% off, I'm a-lookin' at it!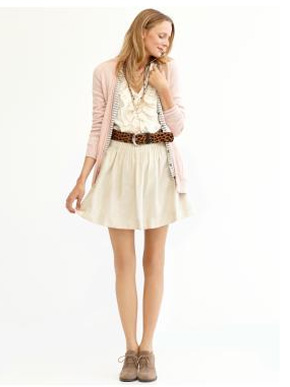 First thing to note is that indeed the color in real life does not reflect the color in the stock photo. Instead of beige-ish, it's more green.
I'm wearing: Loft Striped Corsage Sweater, Loft Wide Braided Belt, Tory Burch Julianne Wedges
It is significantly cuter than I expected. It's very light and airy with a great circle/A-line shape. I sized up a size for some length; I think that was the right move as I prefer this skirt to sit more at my hips than waist per the stock photo. The only problem I can foresee with this skirt is that you probably can't wear it with tights because the skirt (or its lining) is a soft, thin material; it's not stiff enough to stand on its own and will likely stick to tights as you walk, causing bunching problems, skirt hiking, etc etc. Without tights this will be hard to wear in chillier weather. Regardless, I think this is a great buy and even if I can't wear it in Fall/Winter, the price and design is great enough that I will keep it for next Spring/Summer (which will be here before you know it!).
Get it here from Banana Republic for $39.99.