I would not call the Denim Pencil Skirt from Banana Republic a true "pencil skirt."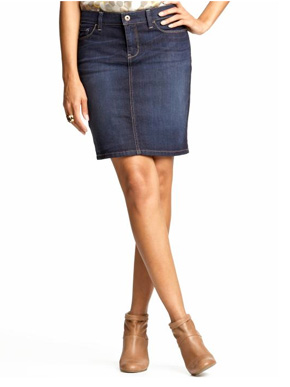 If you think – like I did – that you are getting a demure, basic denim pencil skirt, you will be surprised. I would really call this skirt a "mini." In fact, a very tight, pretty short mini. I got a 28, which according to the Banana Republic site, is a size 6. My usual skirt size. When I took it out of the box for the first time, I thought, holy crap no way I can fit into this tiny thing. By golly I have no idea how in the world I actually fit into it, but it's definitely much tighter than my usual 6.
I'm wearing: Anthropologie Coil Flower Tank (on sale!!), Matt Bernson Bo Peep Espadrilles
The denim material is also very thin. Most surprising was how short the skirt is. I expected a pencil skirt, so I thought it would at least come to maybe an inch above my knee, but I really had to drag it down to make it as long as it looks in these pictures…which still is not long enough for me to feel comfortable wearing to work. Too tight and too short for the office for sure. However, I can see that if I had sized up a size, it may just work, perhaps with tights and boots in the fall/winter.
Get it here from Banana Republic for $49.99.