I don't know why but I have a thing for above-knee white skirts for summer. They look so summery yet well matched with everything. White is one of the staple neutral colors in any wardrobe but really, summer is the only season when white can be worn as a bottom without incurring weird stares. So, I like to stock up. This Cotton Eyelet Skirt from Banana Republic has a 5 star rating on their site, along with its label as a "customer favorite." At 18.5″, it seems like the perfect length for a casual white skirt.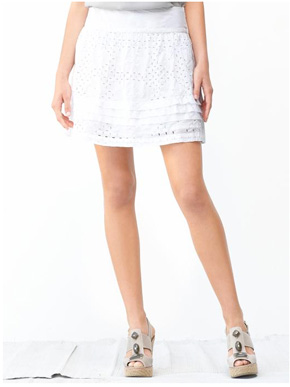 It is definitely a cute, casual white summer skirt. The eyelet detailing makes it look more expensive than it is (especially if you get it during a BR promo), and it fits relatively comfortably. It's a little shorter than I had hoped, but I don't think it looks inappropriately short. A little more A-line shape would have been great as well. Is it my favorite skirt ever? No, but it will be a nice addition to the white skirt rotation.
I'm wearing: J.Crew Vintage Cotton V-Neck Tee, J.Crew Studded Bar-Car Belt, Banana Republic Dahlia Wedges

I wish they had made this skirt with an elastic waist though rather than the zipper. The side zipper feels like this hard strip of metal against a relatively fluffy, soft eyelet material, so it kind of stuck out a bit on the side but not noticeably so. Sizing wise, I got my usual size, but I could have sized up a size just for some additional length. That's all personal preference. I'd recommend this skirt, but probably only at 30% off (going on through end of today!).
Get it here from Banana Republic for $69.50 (plus 30% off today).