The Bo Peep Espadrilles from Matt Bernson are hands down the most comfortable 4.5″ heels I've ever worn. Maybe these are even one of the most comfortable shoes I own, period.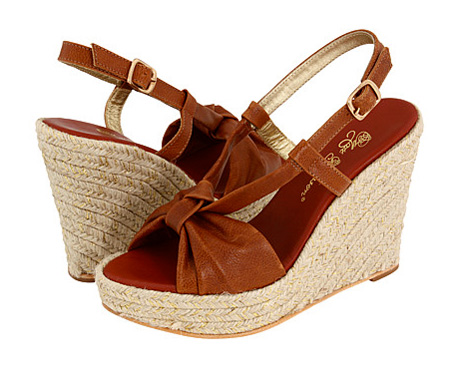 Why are these so comfortable? For one, the big ol' platform in the front. I've seen a lot of designers do this front platform poorly, so that the wedge seems way too clunky and ridiculously over-platformed. Not so with these. The cushion on the insole is amaaazing. The slope falls right where the arch normally falls. The combo makes these SO easy to walk in. Slingback also ensures no rubbing at the heel, so that the shoe moves with you. Best of all, there is no strap cutting across the shoe which means there is nothing there to cut off the line of your leg, aka these shoes will make your legs look super long. At least longer than usual.
I'm wearing: J.Crew Watercolor Pastiche Perfect Shirt, Banana Republic Pique Pencil Skirt
I wore these the other day to see my parents, and at first glance they were like holy cow you look amazing! What did you do! Then I took off the shoes and they were like oh…now that you've taken off those shoes…um….I was like, gee thanks Mom and Dad. These are definitely addictive, because now when I wear flats, I feel like I just look stumpy. Thank goodness these are comfortable because they're currently my go-to shoes for the summer!
Get them here (on sale!) from Piperlime for $134 (down from $189!). Remember to order one size up!