The Matt Bernson Isis Gladiator Sandal has the most cushioning I've ever experienced in a sandal, maybe even in shoes, period.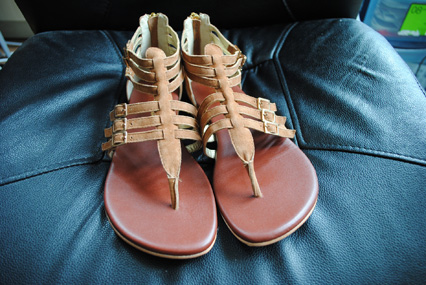 See the thick brown insole? That's all cushion. Incredible comfort. You literally feel like you are walking on a puffy cloud. They give you the trendiness of the gladiator style, but without any of the discomfort of straps digging into your skin. They're soft brown suede on one side, pebbly soft gold leather on the inside. The only thing I don't like about them – and this could just be me – but the straps are very short, so they feel kind of tight around my ankles. Not too tight, but tight enough to notice. I have to use the last hole. But luckily, you don't have to worry about unbuckling each of these straps every time you wear them or take them off.
The back zips down and you can easily slide your foot in. Voila! I love them but I don't love them for $178. For that price, I want a pair of eye-catching, stunning sandals that I will want to wear all the time. While these are cute and uber comfy, I'm not sure that these are it. What do you think?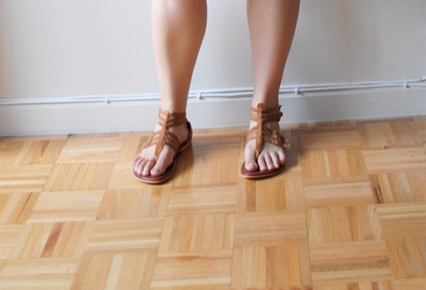 I wish there was more hardware on these. The small buckles on the side are just so adorable! Here's a full on shot of them from a distance and from the side.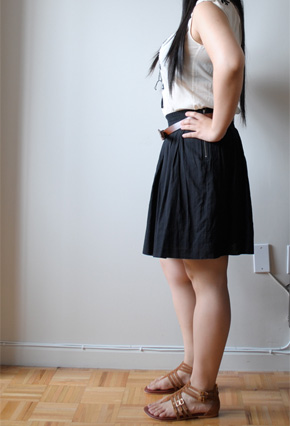 I'm wearing: J.Crew Cozumel Tunic, Banana Republic Smocked Skirt, J.Crew Equestrian Belt
These specific ones are not for me, but I've now discovered the amazing comfort of Matt Bernson and I am hooked. All his shoes and sandals seem to have this thick, cushiony sole, so I shall be eyeing some more and perhaps trying on a few more pairs!
Get the Isis from Zappos here for $178.