When I first saw Anthropologie pair the Coil Flower Tank with the Diamond Flame Skirt, I knew I had to buy the entire outfit. I don't have any print tops and I thought this dynamic skirt would be boring if I only paired it with solid tees (probably of the white, neutral color). I never would think to pair that skirt with an aqua color top, but I think it works, particularly with the red coloring of the pattern in the top.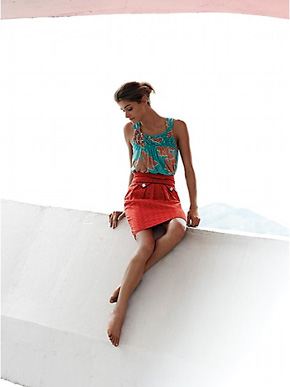 $58 for a simple cotton tank though seems egregiously overpriced, but I figured I'd at least order the ensemble then decide…particularly as my size quickly sold out and I only managed to snag one due to sheer luck when one popped back up. It came today and my first impression was, "why the f. is this thin cotton tank $58?" It seems like extremely ordinary quality, the coloring wasn't saturated at all as it appears in the photo above, and it honestly looked like something I can probably see at Target. Was completely unimpressed. Then I put it on and walked to the mirror…
I'm wearing: Old Navy Foldover Knit Skirt, Banana Republic Dahlia Wedges
…and I totally get it now. I LOVE IT. I don't even know why. The print looks really unique and pretty, and the fit is uber flattering. The cut is high enough at the arm pits to avoid squishing out that small pouch of fat that appears by the sides when straps cut at the wrong place, and it really shows off the shoulders. The front is loose so it looks very breezy and flowy when tucked in. Here are some side shots. You'll see in the second picture that because the back is racerback, your bra straps will show. Best to wear this one with strapless (I've yet to find a good one…).
Looks a bit weird when untucked with any kind of A-line or full skirt, but would probably work if you belted it over the skirt. Either way, I can definitely see how great this will look with jeans or pencil skirts.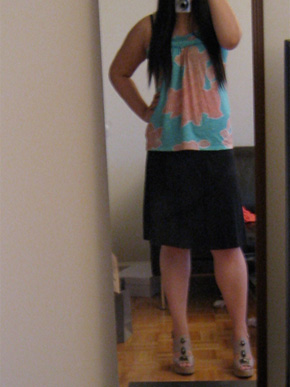 My Diamond Flame Skirt is coming tomorrow, so I'll post pictures of the whole ensemble tomorrow. I'm contemplating whether or not to pick up the tank in the other colors. You can get your Coil Flower Tank here for $58.