Now that summer is upon us, I'm starting to harbor some real discontent towards my paltry "collection" of sandals. I have two pairs of Jeffrey Campbell Johnny Ex that are supremely comfortable and have lasted me every day last summer. But they're really starting to look the part and frankly, I'm tired of wearing them every day. I'm looking to fill 3 empty spots in my daily shoe rotation – high wedge (filled by my recent BR Dahlia wedges), low-medium wedge for days with more walking (especially to wear with skirts), and super cute flat sandals. These Glint sandals from Charles David fill that last hole. They're not plain flat sandals – the gorgeous jewels and unique pairing of turquoise and ruby make these a head turner. They're simple yet elegant and will add a pop of color to every outfit. As bejeweled sandals are such a huge trend this summer, I've seen them everywhere, but honestly I don't think any of them are as classy and gorgeous as these.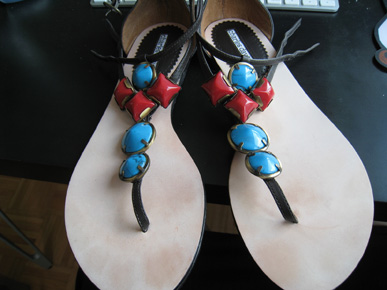 These are not the most comfortable sandals, but they're comfortable enough. I say this because the single string holding your foot to the shoe is a bit meager; your foot tends to move around a lot, especially since the surface is so smooth. The sole also doesn't move with your foot as you bend it while walking because there's just not enough holding your foot to the shoe; you end up feeling like you're flopping while you're walking, with the sound to match. I got my usual size but it's slightly longer than my foot. There have been times when I wasn't careful and stepped out of the shoe. They've been comfortable while walking around my apartment so I'm hoping all these issues don't manifest into something unbearable when I roll them out to the concrete sidewalks.
I'm wearing: Anthropologie Coil Flower Tank, Banana Republic Smocked Skirt (similar here), J.Crew Equestrian Belt
You can get these for a pretty good deal right now from Endless. As of this morning their Bing cashback rate is 20%, which takes these down from $144.95 to $115.96. Get them from Endless here. They seem pretty popular as a few sizes are already sold out, so hurry and snag a pair while you can!