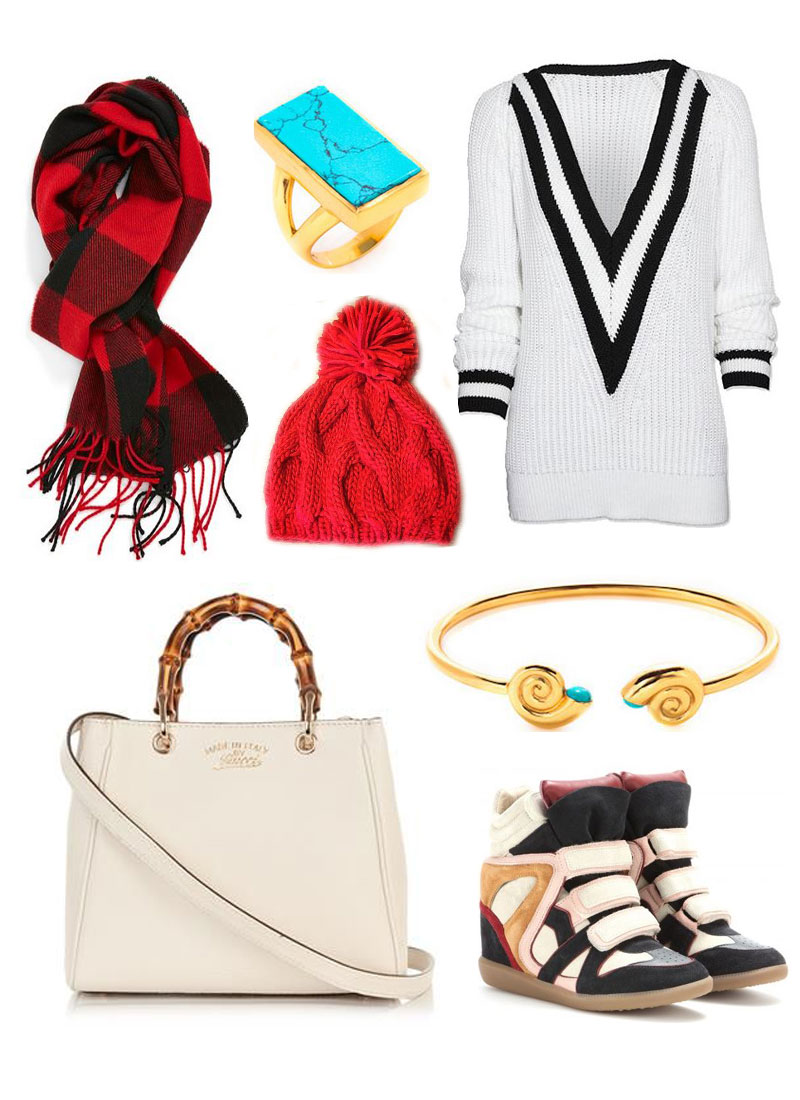 1. The Rail Red Check Knit Scarf – the quintessential red/black plaid scarf of the season and only $13.40. You heard right! If you're wondering why you haven't found this gem in all your shopping, it's because it's conveniently tucked away under the Men's section at Nordstrom. Get it here.
2. Splendid Beanie aka Pom Pom Hat – I'll admit this is a bit steep for a hat, but it's just the perfect hat and very on trend this season. The pom pom is the perfect size (not tiny making it disproportionate to the rest of the hat nor overly large), the length of the hat is just enough for it to drape/hang a bit in the back of your head and not stick straight up, and the color is the perfect shade of red. Great as that pop of color for any neutral-colored outfit. The model wears it poorly so don't judge it based on that. These are very popular and limited now, as they're now shipping the remaining stock from stores. Get it here from Nordstrom for $48.
3. Julie Vos Belize Ring – Gold and turquoise is a fail-safe match and ever so exotic yet chic. Very "Belize"-y. Love that this is now included in the Julie Vos sample sale at 60% off, now with an additional 25% off with code EXTRA25. It's a no-brainer. Get it here for $66.
4. Trouve Cricket V-Neck Sweater – yup, this is basically the budget version of the ubiquitous Rag & Bone Talia sweater that has been seen on every other blogger and celeb, but instead of $495, this sweater is only $78. Reviews are all positive and it's 100% cotton. I'd say this qualifies for "find of the week!" It's also getting very limited, as the remaining stock is now being shipped from stores. Get it here from Nordstrom for $78.
5. Gucci Mini Bamboo Shopper – Ok, this is probably the least "affordable" pick of the bunch, but this little bag is super adorable, super high quality, and actually priced relatively cheaply considering its larger counterparts are much, much more expensive and the mini Gucci swing bag (which is a cheaper series) is not that much lower in price than this one. Get it here in Black, Pink, or White for $1,350.
6. Julie Vos Button Shell Bangle – My second pick from the Julie Vos sample sale. Love the unexpected touch of turquoise at the two ends, and it'd go perfectly with the turquoise Belize ring. Get it here for $38 (that's 60% off!). Use code EXTRA25 for another 25% off!
7. Isabel Marant Wila Wedge Sneakers – It seems whether or not wedge sneakers are awesome or an atrocity is still up for debate, but I personally am a fan of any high heel that's this comfortable and allows me to actually run. If you don't love the skinny jeans + wedge sneaker look, then at least they'd be great to wear under jeans and help lengthen the visual line of your leg without all the pain of typical heels. Get them here at 30% off for 251 Euros from MyTheresa. Also love this one.