I've never been an Old Navy kinda girl; my style usually draws me more into the J.Crew's and Banana Republics. However, recently I've seen quite a few people with items to which I've had the "where did you get this?!" reaction, only to find they were from Old Navy. Intrigued, I browsed around tonight and surprisingly did find quite a few cute (& super cheap) items worth taking a look at. Icing on the cake? They're having a 25% off sale until 11/5 via code SAVE. Here are my picks:
This bucket bag from Old Navy has been popping up everywhere on fashion blogs. A friend of mine sent this photo to me, and while I have no idea who to give the photo credit to (please let me know if you know!), it's definitely better than any photo Old Navy can produce to showcase the beauty of this bag. The bucket bag shape is right on trend, the color is rich and matches everything, and though it's not real leather, it sure looks like very chewy, yummy leather. Best of all, it's only $29.94, which is already dirt cheap enough to make this a no-brainer, even before the extra 25% off. For this price, it's even worth it just as a rainy day bag if the trend ever passes. Get it here from Old Navy.
I'm usually kind of afraid of lace, or more specifically, taking care of lace. This lace tee from Old Navy though is just as pretty and delicate-looking as any other lace top I've seen out there, but it's machine washable! Hallelujah! The colors offered are also right on trend — this oxblood, a crisp white, and classic black. Only $29.94 here at Old Navy, and don't forget the extra 25% off!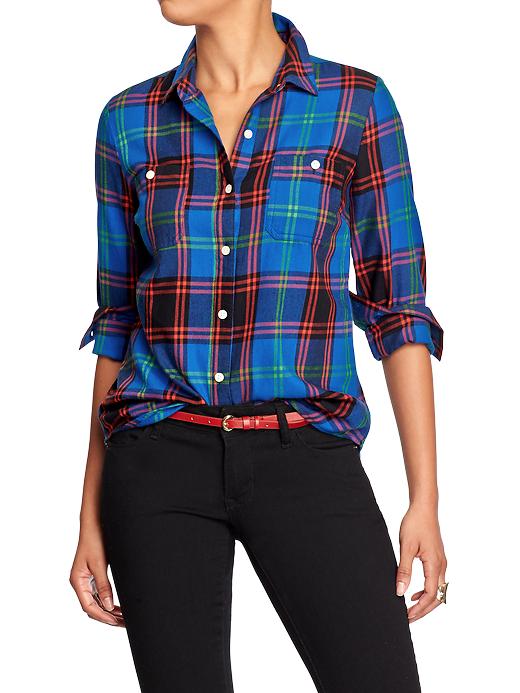 This was a Refinery29 pick according to Old Navy. Given I'm a huge fan of plaid flannel in the Fall/Winter seasons, this is right up my alley. Though many of Old Navy's colorways are not really that cute, this one — "bold blue plaid" — is done well I think, and indeed bold and cute. Get it here from Old Navy for $24.94, now with extra 25% off.
Old Navy Plaid Flannel Boyfriend Shirt
Out of all the red/black buffalo check flannel shirts out there, this one is super cute for the price. Not as high quality as the Madewell one I'm obsessed with — just look at the stitching alignment on the right — but for the price, it's a great plaid fix and the small things like stitching alignment are probably not noticeable. At its worst, it'd be a great layering piece under a denim jacket paired with leggings/skinny jeans and boots. Get it here for $26.94.
Old Navy "Loved" Graphic V-Neck Tee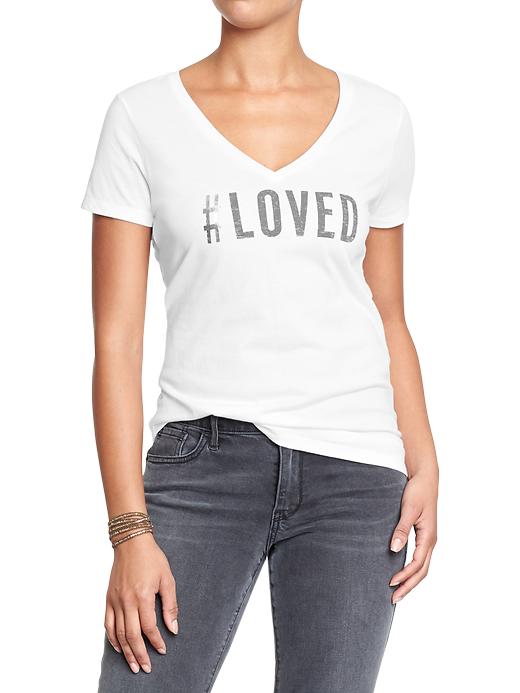 Old Navy has made a few cute graphic tees lately, and though some are too cheesy to ever wear out, a select few like this #Loved tee are pretty simple and cute. $12.94 only, here at Old Navy.
Old Navy Active GoDRY Graphic Tank
Like many women, I'm always on the lookout for flattering, cute tops for the gym. Having cute outfits for the gym motivates the lazy girl in me to get off my ass and go; even more so if the clothes themselves are mocking me for my laziness. At only $6 for the brown/pink one and $12 for the black version (before the 25% off nonetheless), these are great tanks to stock up on. Get them here from Old Navy.
I always thought fur-trim hooded vests were super cute, but thinking about how there's only a short window in which it is cold enough that they're needed but not too cold that my arms won't freeze off, I've never pulled the trigger. However, at just $39.94, it's not a high price to pay even for something you'd maybe only have the next few weeks to wear. It's cute enough to add some pizazz into a plain long-sleeve tee, jeans, and boots outfit. Get it here from Old Navy, and don't forget about the 25% off!
Lesson learned: even though Old Navy isn't exactly a style leader & therefore is easy to forget, it still pays to check in from time to time, especially if you're loving a trend you're itching to try but don't want to invest in. Old Navy probably has a decent version of it.