It's that time of the year and I'm still on the hunt for the perfect boots to take me through Fall and Winter. Just yesterday as I had to step into the pouring rain in my summer-remnant flip flops, I resolved to find a pair of great-looking, non-rainboot-like boots that can go with all my girly preppy outfits but at the same time keep my feet warm and dry through all the rain and snow of Fall/Winter. I literally did hours of "research" on Zappos last night, so here are my picks. Which ones do you like?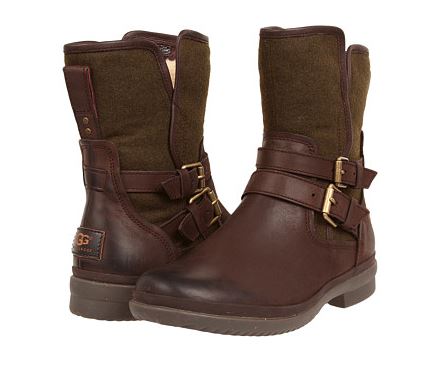 My first thought was to look at Uggs. I don't care what anyone says, Uggs are my go-to boots in the winter because they are just so damn warm and comfortable. Nothing else comes close. And let's be real, when you're shivering in the cold, the last thing you're thinking about is keeping up your style. I thought if I could find boots that were just as cushy on the inside as Uggs but also weatherproof, that'd be my ideal boots. The Ugg Simmens is it. Plush goodness on the inside, waterproof leather on the outside. They're also pretty cute; I mean, look at those cute gold buckles! The price is also surprisingly cheap for leather Uggs at just $159.95. Get them here from Zappos.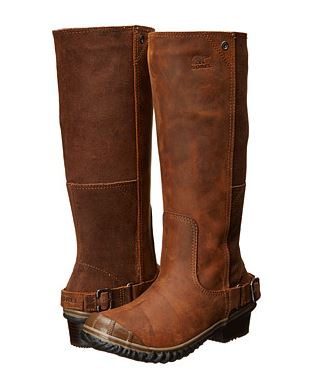 Sorel was where I looked next, but I didn't want anything that looked like their famous Joan of Arctic boot. As cute as those are with all their furry goodness, they just look like snow day / rain day boots. Too sporty and casual to match with my usual JCrew-type skirt + cardigan outfits, especially in a work environment. Then I found these Slimboots. Waterproof full grain leather aka best quality leather possible and invincible against nature. Hallelujah! Doesn't get any better than that. And that nutmeg color is gorgeous; looks so well-oiled and tanned with all that color variation. The price is also not bad at all; get them here from Zappos for $180.
Merrell Captiva Buckle-Down Waterproof Boots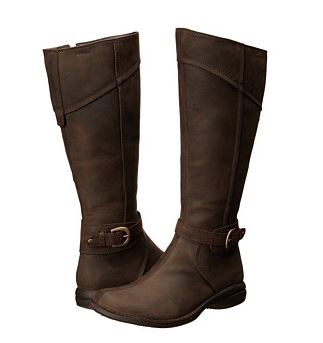 These Merrell boots look like normal, cute boots but are made from – again – waterproof full grain leather. Yessss. They also have a ton of cool tech inside to keep these boots breathable and as comfortable as possible, including an air cushion, EVA footbed, and even some odor control. Get them here from Zappos for $200.