It's that time of the year again — my favorite season: boot season! For some reason, I love the combo of skirts + boots. It's a great way to keep wearing skirts from summer to fall, and it allows me to keep buying skirts, just in hearty fabrics like tweed and herringbone. You can also change up the vibe of any outfit just by playing with boot height, heel height, and skirt length. Though something about skirts + boots just oozes va-va-voomness, it's important to keep comfortable, so here are my top 5 picks for cute, flat knee-high boots for this season.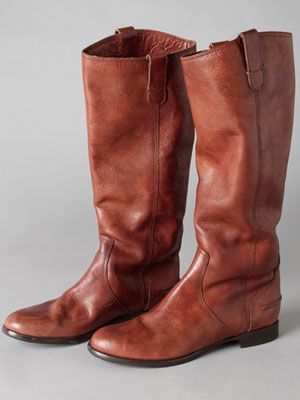 Madewell has really gained a reputation for making awesome leather bags and shoes. Their leather always looks very raw and the designs are always classic & simple, letting the leather shine. These Archive boots look like the perfect no-frills, comfortable pull-on boots. Get yours here for $298.
Frye Dorado Buckled Leather Riding Boot in Redwood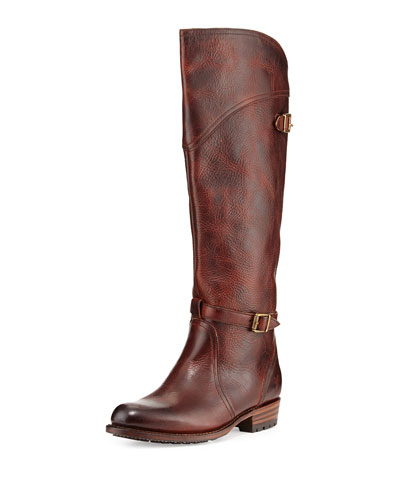 Of course, no top boot list of any kind can be complete without Fryes, and specifically Frye Dorados. These are classics in the leather boot world, and I love that they keep coming out with better leather and colors each season. In Redwood, specifically, these have a beautiful texture and character that I haven't really seen on other boots. Add on the buckle detailing and small stacked heel, and these just feel super luxe. Not your basic pair of boots for sure. Get yours here for $698.
Tory Burch Teresa Logo Riding Boots
Again, it's all in the details with these Tory Burch Teresa boots. Love that the leather is smooth but if you look closely, it's textured and looks quite unprocessed. The buckle/straps and the small gold logo at the top add visual interest and a pop of glam to an otherwise classic pair of riding boots. Neiman Marcus describes it well when they reference these details as adding to an elevated equestrian style. Get yours here for $495.
Steve Madden Intyce Riding Boots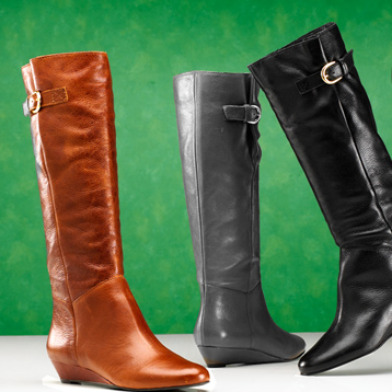 Of course I'm sure most of you have already tried on these Steve Madden Intyce boots, if not already own them. They're as popular as they are this many years after release for a reason — they have the textured, thick, chewy leather every girl wants, they have the match-everything delicious cognac color, they have just the right amount of hardware for a pop of luxe, they're relatively comfortable with just a slight heel, and the price is quite low relative to all the other boots that can fulfill all those conditions. They're also very adjustable at the top, so they'll fit girls with bigger calves without looking weird. I've had mine for a couple of years now, and though they're not the most comfortable boots after hours of wear, they are definitely my go-to boots. Get yours here from Amazon starting at $84.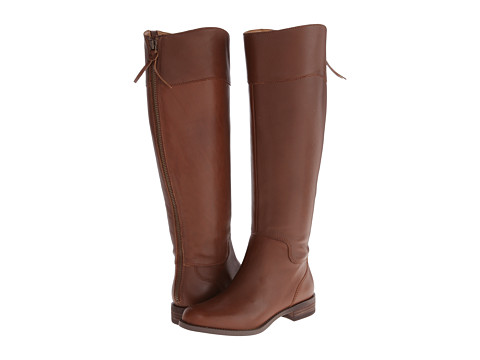 And last but not least, for anyone who just wants a classic, smooth leather riding boot that will look great with anything and everything and age well with time, look no further than the Nine West Counter boots. They have a normal version and a wide calf version, but the wide calf version has a circumference of 14″, same as all the other normal riding boots, so I wouldn't be deterred by that. When I think of the epitome of a classic, no-frills, relaxed, casual leather boot, I think of the Madewell Archive Boots. When I think of a classic, dressy, no-frills riding boot, I think of these Nine West Counter boots. Best of all, they are dirt cheap. Get them here for $114.99 from 6pm.com.