Though many would say floral pumps are perfect for spring/summer, I say nothing cheers up a chilly Fall or Winter day more than some flowers at your feet in the form of a pair of pretty floral pumps. It's unexpected and just the right feminine, whimsical touch to an otherwise neutral or winter-drab outfit. I've recently fallen in love with 3 pairs — which one is your favorite?
Stuart Weitzman Rose Python Floral Nouveau Pumps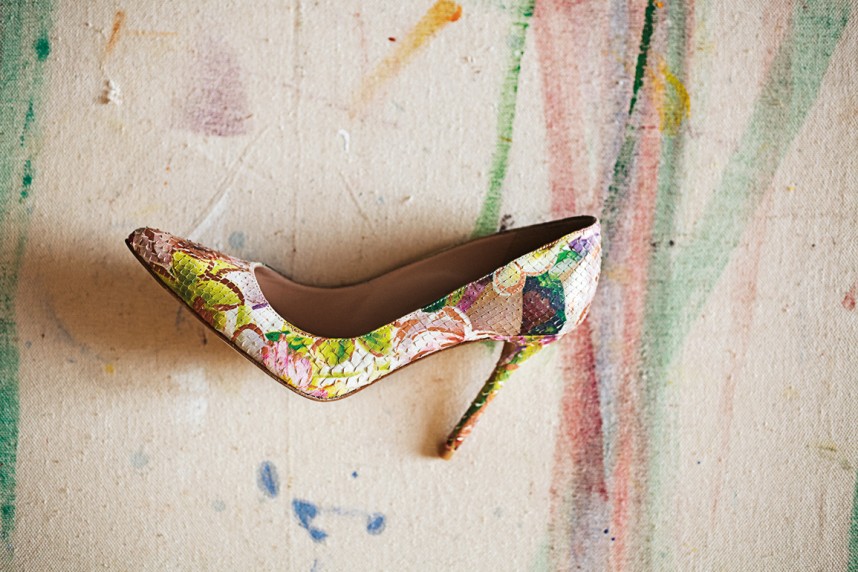 These Rose Python Floral Nouveau Pumps are basically a work of art. They're hand-painted on python, so each pair is completely unique. Literally, they're works of art on your feet. These take floral pumps to a whole new level compared to your regular ol' printed floral pumps, most of which look like your grandma's old curtains. Love these with a passion. Also read that these are true to size & super, super comfortable. AND they're on mega 50% off sale everywhere right now. Check if your size is available here and here.
Kate Spade Licorice Floral-Print Leather Pump
Something about these rose pumps just speaks to me. I think it's the sexy cut of the pump, and the bold striking colors of the blossoming roses in the print. Make no mistake, these are statement shoes and should probably be paired with relatively neutral outfits so that they really sing in the spotlight. Too many other floral shoes have the cheesiest prints — some are too splotchy with the colors, some of the colors don't really pair well together, and some just don't match well with the shape of the shoe. These are really perfect in almost every way, only wrinkle being I may just like these more if they were hand-painted and each pair was unique also. But that's asking way too much. Get these here from Neiman Marcus for $328.
Christian Louboutin Pifalle Follies Floral Satin Pump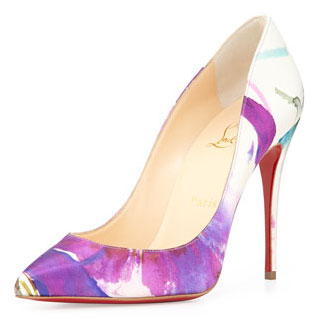 Like the Stuart Weitzman Nouveau pumps, these Louboutin Floral pumps are more abstract and more like a work of art than a blatantly obvious floral pump with flowers all over it. And that's why I love it. It looks like an abstract painting on your feet, full of purple and pink hues that ooze femininity. In this uber sexy cut and high heel, they are the epitome of class. The red sole complement doesn't hurt either. Only snag is I'd prefer these in leather so they're not literally fragile pieces of art on my feet that I have to be careful with. But that's a small price to pay for these beautiful floral pumps. Get these here from Bergdorf Goodman for $675.