Is it bad that the list of shoes I want is pretty much endless? And that every day I add on at least one new pair? Well, if you're reading this, I'm sure you know all too well how I feel. Today's obsession is the Manolo Blahnik BB Pump. I must be the last woman on Earth to hear about these gems, which is surprising because my mantra is all about being polished and put-together with the least amount of effort so comfy high heels would be high on that list of necessities. If you haven't heard of these either, say hi to 4 inch heels that are gorgeously sexy yet uber comfortable.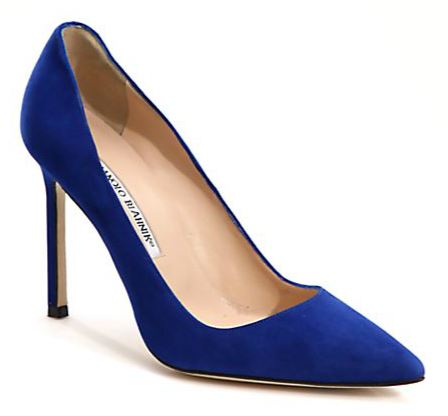 Manolo Blahnik has released these pumps in almost every heel height, color, and leather possible. I have to say, the suede versions are really calling out my name. The colors available in suede are so rich and saturated; it's hard to resist these beautiful jewel tones, especially in such a beautiful silhouette. Royal blue has got to be my favorite. A close second is Burgundy.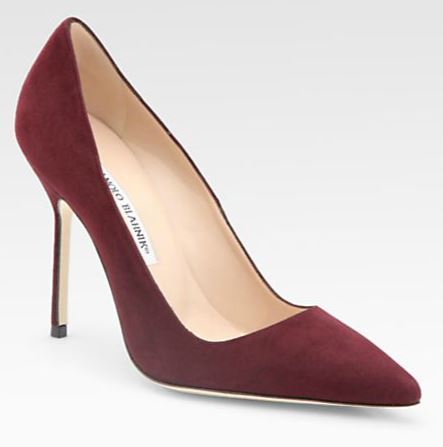 The rave review I keep hearing is that despite these BB's being high enough to be sexy (4 inches = no joke), they're not too tall that you can't wear them comfortably throughout a normal day. After trying these on, I'd say if your feet are at all wide, size up half a size. Mine are normal to wide and I felt most comfortable in half size up. Comparing these to Louboutin Pigalles…there is no comparison. I could hardly walk in the Pigalles. They pinch like crazy and killed the balls of my feet. These feel like I can go at least a few hours in them, at least through a normal work day. If you'd like to try these also, you can get them here from Saks for $595.