I can't be the only woman who likes shiny, sparkly things, right? I'm seriously obsessed. And it's not a mental thing; when I see a pair of gorgeous, sparkly, glittering shoes, my heart just sings and I feel I can't possibly turn away. It's a disease, I tell you. But tell me you can look at these and not feel a thing.
Jimmy Choo Anouk Glitter Degrade Pumps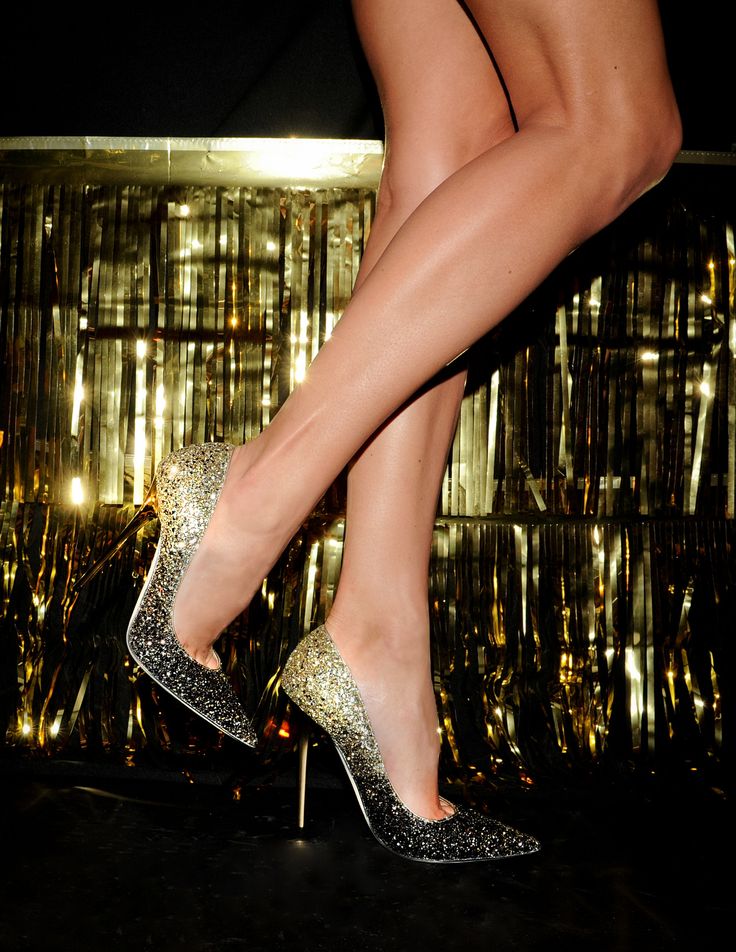 Oh my God, I fell in love with these instantly when I saw them randomly on Pinterest and promptly hunted them down. The Jimmy Choo Anouks. Not only is it uber sparkly, it has an awesome degrade/ombre effect from gold to black, on top of a super sexy gold thin heel.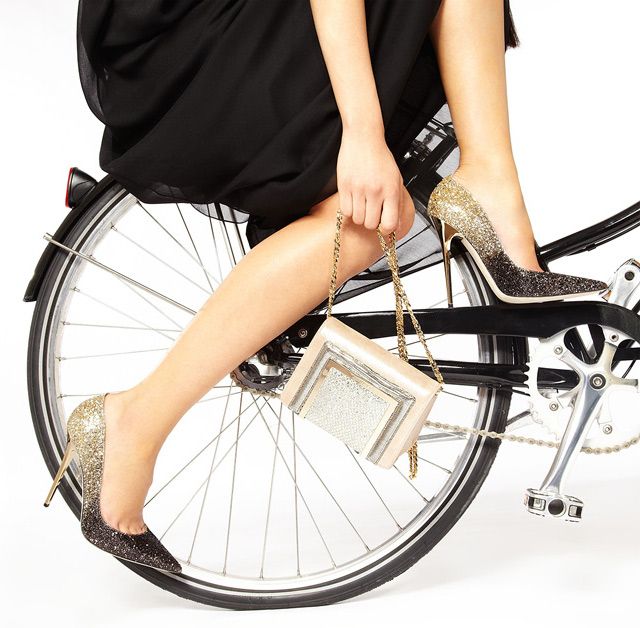 They look like there's a watery, glistening sheen over the shoes. I could look at them all day long. When I was hunting them down, I thought to myself, I have to own these no matter the price. Even if they're over a thousand, I'll make it happen. To find it was a totally reasonable price for a pair of designer heels, I was basically ready to pull the trigger then and there. Then I calmed down and read the product description; that's when I got slapped back into reality. Um, 120mm heel height? Crap.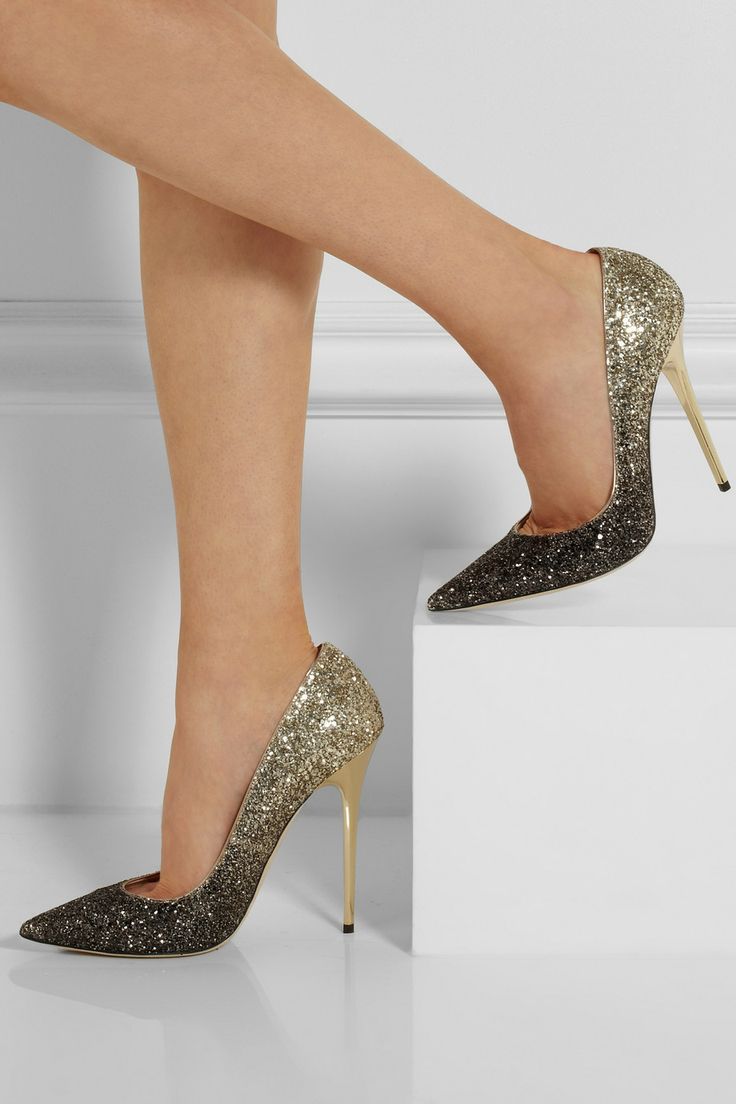 How come the models make them look so normal? I've never even tried on a pair of 120mm shoes, but from the pictures I'm guessing I'd topple over. Probably not likely to walk in them more than a few steps, despite what people say about it taking practice. I'm already too lazy, paying for Jimmy Choos that I can't easily wear everywhere doesn't make sense at all. I loved them so much though I thought, maybe it's worth it just to own these and I'll treat them like an art piece…but that little voice in my head told me that's just stupid (PS if you can make these work, get them here). Then I found these:
Jimmy Choo Agnes Glitter Degrade Pumps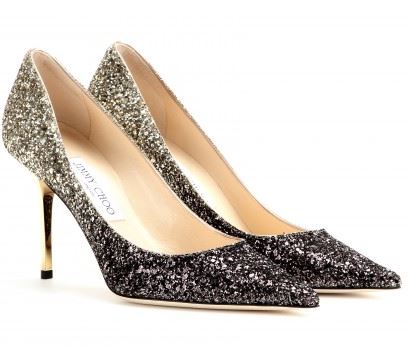 WTF? I'm a total noob to Jimmy Choo, so is it normal for the same type of shoe to be repeated across different shoe styles with different heel heights? Kind of weird. These are the Jimmy Choo Agnes pumps, which clock in at only 85mm, which is totally walkable. Exact same gold to black glitter degrade style. Hallelujah? Eh. Something about these just didn't speak to me the same way as the Anouks. The heel height to shoe length proportion seems much less sexy to me vs the Anouks, but then again these are much more practical. I can get the look I love in a shoe that I can actually wear out. I just didn't love it and debated back and forth for a long time. Then by sheer luck, I ran into these:
Jimmy Choo Abel Glitter Degrade Pumps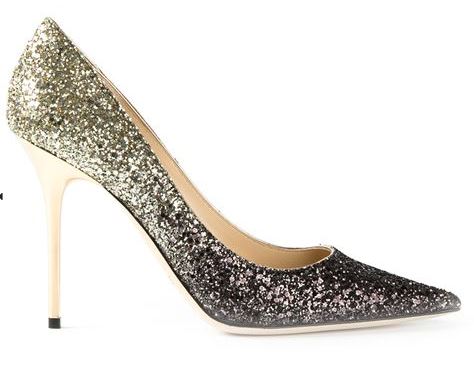 Another heel height?? Why, Jimmy Choo? Why? I'm really baffled as to why any designer would do this. I get it for classic styles, like the Louboutin Simple Pumps, but why these degrade glitter ones specifically? Anyway, I found out these were in the Abel style, clocking in at 100mm. This could be my perfect goldilocks heel height! I started reading reviews and pleasantly discovered people raved about the comfort of the Abels, despite the 4″ heel. Was it fate? Possibly. Only Farfetch carried these, and only a few little European boutiques had these. I finally pulled the trigger and can't wait for these to ship to me from Italy. Hooray! If you're considering these, I read most people went true to your US size, though some with wider feet sized up half a size.
If you're loving these, see if they have your size here from Farfetch. Bonus: these are priced much cheaper when shipping from Europe, and all import duties are included in the price!