I've really been liking lace lately; pretty sure it's because I've been seeing it literally everywhere for the Fall season and subconsciously it made me like it more. For sure it's not an organic affinity, as I've never really quite taken to lace ever before. The new, refreshed take on lace is very modern and feminine and much more to my liking — especially the new trend of having some part of the lace be see-through. Very chic. My favorite so far is the Rebecca Minkoff Angelica Floral Lace Skirt:
At first I wasn't sure about this color, but then I saw it paired with this regular white tee and it just felt so sunny and warm and happy. I love how the lace looks; it's not at all like the really old-fashioned tablecloth-type lace your grandma used to use. For those who like to be a little bit more vampy/sexy (or maybe just as an evening look), it's also available (and on sale) in black: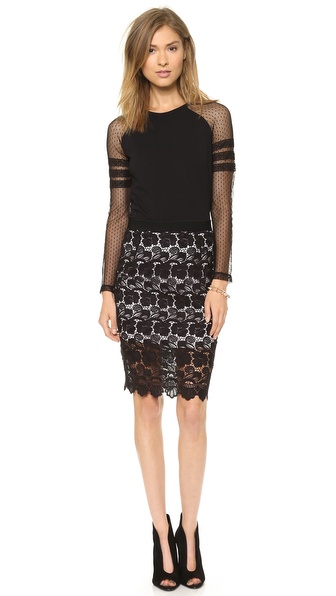 Having that bottom portion be see-through lace is very chic and modern; no matter the color, it adds just that right touch of sexiness to this relatively lady-like skirt. Get either the black or yellow at 40% off here for $148 from Shopbop.