I haven't been to a H&M store in years. I outgrew the whole phase of needing to be trendy so I'll buy cheap items that last a handful of wears, but recently I've seen a lot of bloggers pick up some super cute pieces at dirt cheap prices, so of course I couldn't resist checking out the 5th Ave store while waiting for a friend today. I wandered around and was not too surprised to see a lot of clothes that felt like super rough and poor quality, that I can just envision totally changing shape within a couple washes. Then I spotted this super cute, simple polka dotted skirt with a smocked waist. It was thin but not see-through thin, and only $9.95! I didn't even bother trying it on, I bought it and left.
I'm wearing: H&M Basic Henley (similar here), Tory Burch Julianne Wedges
This skirt turned out to be cuter and more perfect than I imagined. The shape is a perfect A-line, which really accentuates and narrows the waist. The smocked waist is SUPER comfortable. The length is absolutely perfect, hitting me slightly at the knee. And the print is adorable! Very peasant-girlish and preppy. Here's a shot with the shirt tucked in and belted: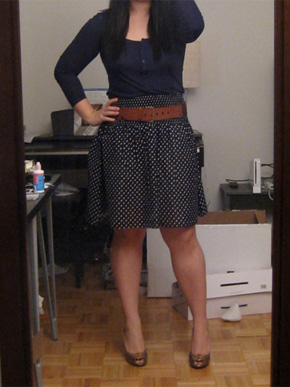 I'm wearing: H&M Basic Henley (similar here), Loft Wide Braided Belt, Tory Burch Julianne Wedges
The henley is only $9.95 from H&M as well and probably similar quality to the "tissue" material henleys J.Crew pumps out. Cheap outfit but cute, right? I love that the skirt is so flattering but so comfortable. I'm guessing it won't work with tights for Fall/Winter because the material will cling onto tights, but while the weather isn't too cold yet, I can wear them with my new Nine West Destry boots! Throw on my J.Crew Schoolboy Blazer and I will be comfy but cute. Love, love, love!
Anyone else discover great steals at H&M these days? Do share!