I've been so bored with J.Crew lately, but with their recent new releases, new catalog, and grand opening of their online Factory store, they definitely got my attention again. Well, with Fall/Winter upon us, I'm starting to feel increasingly chilly when I walk out of work every afternoon. Having been caught in a few freezing freak thunderstorms lately, I've been super drawn to J.Crew outerwear lately. In fact, let me be frank. I'm obsessed. At about $300 a pop, I'm really going to have to make some tough decisions…
J.Crew Double-Cloth Bon Bon Coat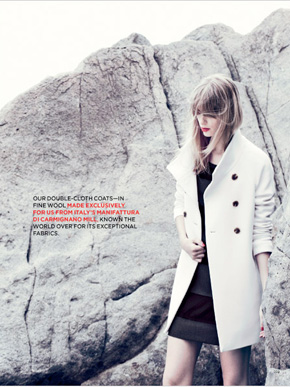 I have to be honest, I did not give this coat a second look when I first saw it. That's probably because J.Crew has it in black in the stock photo and who needs another black coat? But when I opened the new J.Crew catalog and saw this pristine, stunning, angelic, elegant, pure white coat, I completely fell in love. Irrational? Yes. Totally impractical? Absolutely. But oh how much I would love to be wrapped up in this beauty. It would be such an elegant statement coat, so effortlessly stunning. Ahhh, what a beauty. So hard to resist.
Get it here from J.Crew for $325. Ouch.
J.Crew Stadium-Cloth Peacoat with Gold Buttons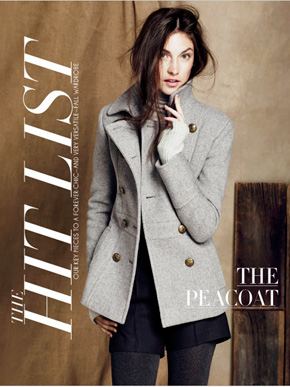 You had me at "gold buttons." I don't know why so few designers utilize gold/brass buttons on outwear these days, but it really elevates any jacket/coat for me. Gives it that slight military edge. This coat not only has the crested engraved gold buttons but also looks amazingly fitted. Absolutely adorable. How cute would this be with houndstooth/tweed minis and boots? Yowza. Not going to lie, I squealed when I saw this coat. Who squeals these days? Apparently I do. For the right coat. Navy or gray? Navy or gray?? Ahhhh. It would extremely difficult to resist this one.
Get it here from J.Crew for $245.
J.Crew Stadium-Cloth Sasha Peacoat
Baked Squash is my pick of poison here. All I have (and probably most women out there) are boring black coats, mainly because they're safe and match with everything. Yea "Baked Squash" would be harder to match, but that is why it would be a standout amongst the sea of black coats you're sure to see this upcoming Fall/Winter. Pair this with a neutral mini like the Loft Chunky Tweed Mini, some cognac-colored leather boots, and you got a refreshingly adorable outfit. And if it's not obvious already, I love the peacoat + chunky mini + boots combo for this season. Best part of the season, I say.
Get it here from J.Crew for $258.