I had high hopes for the Wool Bell Skirt from J.Crew. It looks to be comfy and quite versatile – perfect for fall – which is all a girl can ask for in a skirt!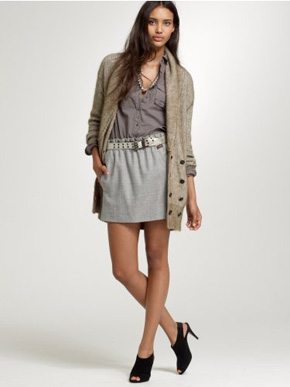 I've seen this skirt look cute on other people, but it just doesn't look right on me. I got my usual size in J.Crew skirts, but somehow it looks more like a short pencil skirt on me than how it looks on this model and on others.
I'm wearing: J.Crew Vintage Cotton Henley, J.Crew Smooth Leather Belt, Banana Republic Dahlia Wedges
The elastic is pretty wide and not too tight, so it's comfortable. The length is also pretty good and definitely work appropriate. Overall, I think this is a nice skirt, but it's not for me.
Get it here from J.Crew for $79.50.