I live in NYC, a city full of J.Crew stores and J.Crew lovers. It comes as no surprise then that I see J.Crew stuff everywhere. This may be just me but I'm not a huge fan of seeing someone with my exact pencil skirt or cardigan every other block. I love the prints at J.Crew because they're so fresh and unique, but seeing them everywhere makes me feel like one of the masses. I don't know, this could just be a phase. I still find J.Crew irresistible. Anyway, this is the long-winded way of saying, I've started to branch out a bit to find cute J.Crew-esque clothes that may not be as ubiquitous. This Ruffled Chambray Dress from Love Ady is the perfect example.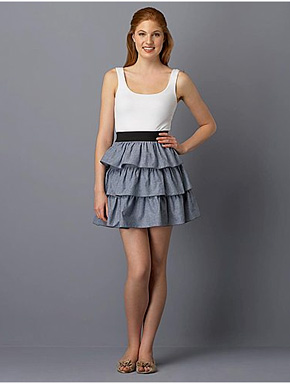 It's just adorable, isn't it? It has an elastic waist so it should be comfortable, and I'm all about the ruffles this season. Especially with a comfy knit stretch top. It looks a bit short on this model but I think it's do-able. I think.
I'm wearing: Love Ady Ruffled Chambray Dress, Matt Bernson Bo Peep Espadrilles
A few small negative things I will say about this dress is that 1) it may be a little too short to be work appropriate, 2) the material of the knit top is a thick, heavily spandexy type top, which feels like it's flattening my chest. I wish it was thinner and had more give. The black elastic waist is also a very tightly bound elastic, and even though it's elastic, it doesn't give too much. Other than that, it feels high quality, I can see myself accessorizing this with cute necklaces and bold belts, and I think it will even work with tights and boots in the fall/winter. Plus, dresses are so low maintenance – no need to worry about matching tops/bottoms. Just throw it on and go! I got a Medium (usually a size 6) and it fits snugly, but it's comfortable.
Get it here from Lord and Taylor for $78.