The new Softspun Sunrise Dress from J.Crew looks to be a cute little dress – comfortable, flattering, and versatile enough to be dressed up or down.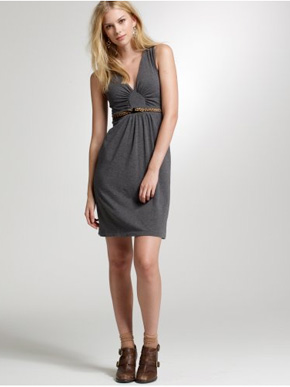 In real life, it is just as adorable. It's super flattering to the bust line, with the detailing at the center drawing the eye. The color is also a great neutral that I think looks great with a cognac leather belt, some tights, and cognac-colored boots for fall/winter. This can pass for a more formal, business type dress, or throw on some sandals and go shopping. Love versatile dresses.
I'm wearing: J.Crew Smooth Leather Belt, J.Crew Glass Pools Bracelet, Nine West Getby Wedges
The length is great, the material is substantial but soft, and it's probably one of the most versatile pieces you can own. What's not to love?
Get it here from J.Crew for $68.