My fleeting love affair – "fling" really – with Abercrombie & Fitch has come to an abrupt end. I don't know why I thought, hey, A&F creates stuff that can be worn by grown untiny women, they're just a younger trendier version of J.Crew! Why, Ran. Why. So two days ago, I excitedly placed a huge order for a ton of stuff from them, even paid $5 extra in addition to their already exorbitant shipping fees to get expedited shipping, and was really looking forward to sharing all these cute finds with you all here. For example, the super cute ruffly Beth skirt.
I was debating between this and the J.Crew tiered ruffle skirt from a couple seasons ago, shown here: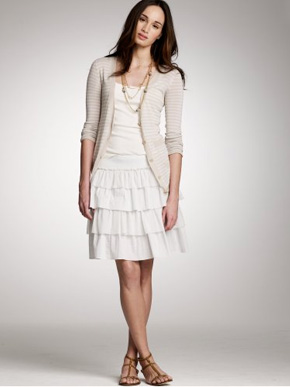 And I thought, if the J.Crew skirt falls to the knee on this amazonian model who's probably like 6 feet tall, how long is it going to be on 5'6 me? It just looked a bit too long. Tiered ruffle skirts should not be that long, it may come off matronly. The A&F looked like it would be slightly below mid-thigh, which I would probably wear on the weekends casually. Well, when I pulled this mofo out of the bag tonight, I literally said out loud, "what. the. f*ck. is this sh*t" (excuse my language).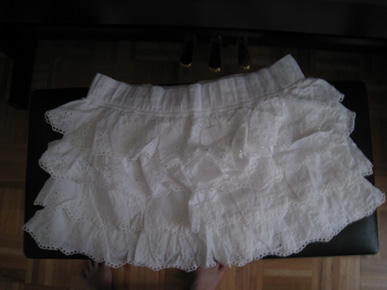 I'm not even going to post a picture of my wearing it because I'm pretttttty sure you can see my underwear. From the front. 11″ of who-would-ever-wear-this. Compare this picture with the stock photo. C'mon. Seriously? I feel so deceived. The rest of my skirt purchases went the same sour way. Tragic. My disappointment is palpable. Out of my entire purchase, the only thing even remotely do-able is the Molly dress.
I'm wearing: Matt Bernson Bo Peep Espadrilles
But it feels so skimpy on top and so poor quality on the bottom that I really feel cheap wearing it. It's a cute idea in theory – great color combo, cute eyelet skirt detail, adorable bow at the waist, but it just does not work for me.
Well it's been a delight Abercrombie but this is my stop and I'm going to get off. And walk away quickly. It's sad when deceptive stock photos destroy the trust between a customer and a retailer and everything cute and well-planned into potential outfits turn out to be missing fabric everywhere. Oy, I better stick to my good ol' J.Crew roots.
Get the Molly dress here from Abercrombie & Fitch on sale for $22.45.