So…I ended up buying a whole lot more than I originally decided on. Eeeep. Crewlade will be pretttty busy very soon…
J.Crew Studded Bar-Car Belt – $19.99
I only recently realized that belts are awesome. Add one to an outfit and you instantly look put together, or at least that you put thought into your outfit. Now when I look at an outfit, I always feel like something is missing…and that something is always a belt. I only own 2 belts so far (both from J.Crew) and this one looks like a good neutral to add to the collection, especially with the addition of the current trend of studs.
Get it here on sale from J.Crew for $19.99.
J.Crew Distressed Leather Denim Belt – $48
Ok, J.Crew marketing got to me on this one. I saw this belt on practically every other image on J.Crew's site and catalog. I already have the Leather Equestrian Belt but this one looks like a softer, more casual belt in a more earthy cognac color. Could just be my justification for buying another $50 belt at full price, but dammit I love it.
Get it here from J.Crew for $48.
J.Crew Printed Kelsey Ruffle Top – $49.99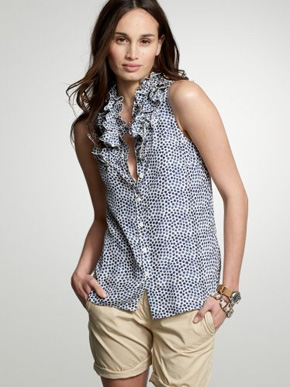 I know I already got the Kelsey top in a solid color, but couldn't resist the printed version when it popped back in sale this morning. Since I loved the print on my Palmera Ruffle cami, and this one is so similar, it's already a winner in my mind.
Get it here from J.Crew for $49.99.
J.Crew Cropped Vintage Denim Jacket – $39.99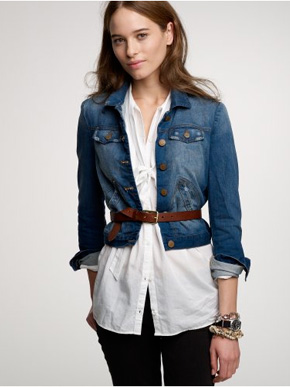 I remember when this jacket first arrived, I really liked how it looked on the model and I wanted to get it, but I've never worn a denim jacket before and I wasn't sure if I could even pull it off. I held off, and now this jacket is on sale for only $39.99. Ideally I would've gotten it in a size bigger but they only had one size left so we'll see. I think this will either end up looking totally hokey on me or hopefully very chic per the styling above.
Get it here from J.Crew for $39.99.
J.Crew Ink Blossom Pencil Skirt – $110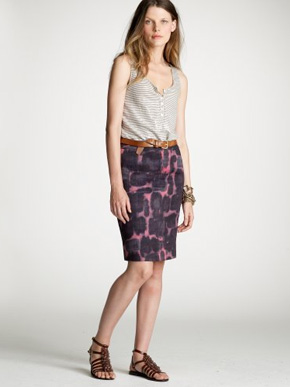 I keep looking at this skirt on the J.Crew site and can never decide whether I like it or hate it. I finally just decided I will have to see for myself. It's in that new shorter length "for summer" that J.Crew is trying out with its pencil skirts, which definitely is the length for me both aesthetically and comfort wise. Hopefully I will love it!
Get it here from J.Crew for $110.
J.Crew Brushstroke Mini – $79.50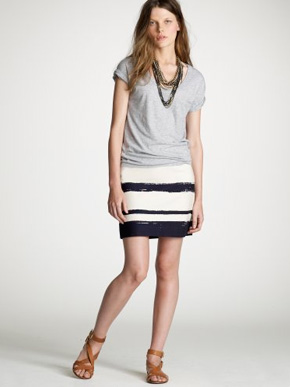 I'm not sure why I like this mini, but I think it's the whole arty brushstroke thing that got me. It's very unique type of colorblocking. See how you can wear it with just a simple tee and you still look very chic. Plus, I can always use more neutral but cool looking skirts. I sized up so hopefully it's not too short!
Get it here from J.Crew for $79.50.
J.Crew Merino Boyfriend Sweatshirt – $69.50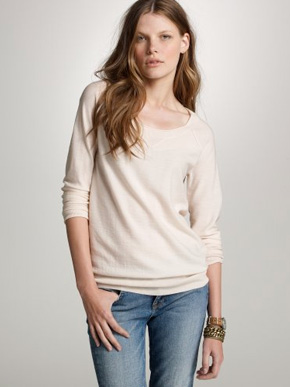 I know it's summer, so who's even thinking of buying sweaters? Well, I realized I don't own any sweaters besides cardigans. Yup, it's true. I really like the slouchy sweater + pencil/mini skirt look, and since this sweater is merino wool, I think it can be light enough to wear in those cooler summer days. I got it in Heather Carbon.
Get it here from J.Crew for $69.50.
J.Crew Long Merino Cardigan – $89.50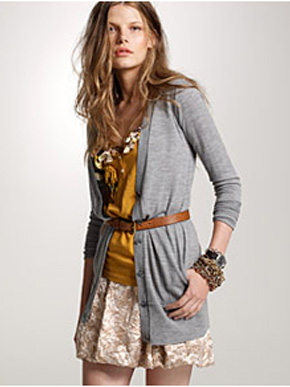 I really fell in love with this cardigan because of this picture. I have like 3 long gray cardigans, but all of them are TOO oversized and thus come off sloppy. This one looks like a much more fitted version that would look amazing belted over a pop color and a cute, short A-line skirt. This season J.Crew is also releasing this cardigan in some amazing colors (Paradise Blue, Wild Plum, Pomegranate!) so if the gray one I got works out, I will probably be picking up the others. However, I have a feeling no one will be picking this up before fall so I may just wait for the sale…
Get it here from J.Crew for $89.50.