There is no denying that the Tissue Sequin Tank from J.Crew is beautiful. I don't know how they've worked their magic with sequins, but the front of this shirt looks like a huge seamless sheet of shininess, rather than actual sequins put together on a shirt.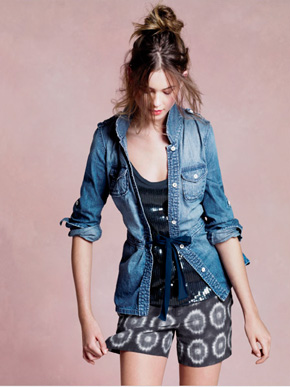 J.Crew's had the lighter colors for a while, and I've been waiting patiently for the darker colors because in my mind, those are the most flattering and versatile because they can be dressed up for night and dressed down (per above) for day. Unfortunately, this top did not turn out exactly as I had hoped. There is some kind of lace lining inside that conforms to your body, but the outer shell of sequins is rather loose and stretchable. The weight of that outer shell also makes you feel like you're pulling on a light suit of armor. Worst of all, because of its shininess, the sequins really draw the light to any bulges/rolls/bumps/movement on your body, which isn't the most flattering. However, I will say that it is very comfortable and the cut of the top is very flattering.
I'm wearing: Banana Republic Pique Pencil Skirt, J.Crew Distressed Leather Denim Belt, Nine West Getby Wedges
I tried toning down the dressiness with the very casual Distressed Leather Denim Belt (also J.Crew), and I think that worked. I can picture this with cute shorts or jeans for casual summer wear as well. The final straw that made this a no-no for me was realizing this top is way too high maintenance for me. All these sequins of course have to be hand washed only, which means I will probably never want to wear it just as I'm now dreading wearing my Sequin Stripe Henley for the exact same reason. So this one is going back.
If you're not as lazy as me, you can get this tank from J.Crew right now at 20% off here for $59.20 through Sunday.