I was on the fence about the Ink Blossom Pencil Skirt from J.Crew. I just couldn't decide if I hated it or loved it. The colors are ok it seems, but what exactly is the pattern? Floral? "Artistic" ink blotches? Leopard? I just didn't really get it. But I'm really loving the shorter pencil skirt length so I figured I would try it for myself.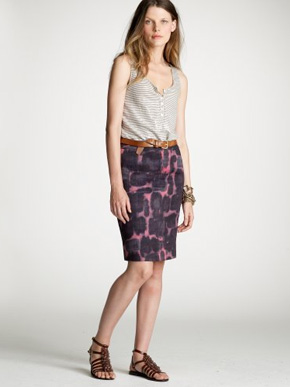 Well, it came and I love it! In fact, while I was trying on different tops and planning outfits for work, I kept pulling this skirt out and thinking the top would look cutest with it. It clearly fills some kind of void in my wardrobe. Out of my print pencil skirts, I have mostly lighter pencil skirts (think Sunshine Peony Pencil Skirt, Canterbury Bells Pencil Skirt, etc.) so this one definitely fits right in.
I'm wearing: J.Crew Victoria Ruffle Tissue Cami, Nine West Getby Wedges
Please excuse the I'm-too-full-from-dinner look. I felt super comfortable in this skirt and really did not want to take it off. The fabric is a soft linen canvas material, much like the Brushstroke Mini actually. Light, moves with your body, comfortable. It is also pretty versatile – matches with light and dark colored tops.
I'm wearing: J.Crew Vintage Cotton V-Neck Tee, Matt Bernson Bo Peep Espadrilles
It looks so put together even when I just throw on a plain white tee! Gotta love pencil skirts. It also hit me that I now own everything necessary to recreate the J.Crew styled look, so here it is.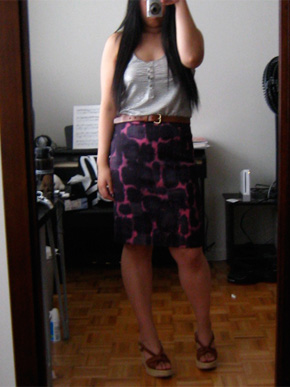 I'm wearing: J.Crew Sequin Stripe Henley Tee, J.Crew Distressed Leather Denim Belt, Matt Bernson Bo Peep Espadrilles
Pretty cute, right? I'm a huge fan. This one is a definite keeper. Oh, and I got my usual pencil skirt size. Fits perfectly!
Get it here from J.Crew for $110 (now on sale for only $59.99!).