Ok, now I know I say this often, but the Cropped Vintage Denim Jacket from J.Crew truly is my new favorite piece of clothing ever. I had no idea how a denim jacket would look on me. Would I be able to pull it off? Would I look hokey and more trashy than chic? I had some hope because the J.Crew model looks so super cute and chic in the marketing picture, but we all know how that can end up IRL.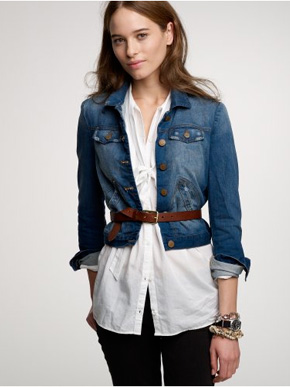 And now I literally want to throw it on top of every outfit. It's like how belts have been for me recently – it just completes the outfit. If I feel like something is missing, I throw on this jacket and it always look cute (to me, at least!).
I'm wearing: Ann Taylor Loft Smocked Waist Button Down, J.Crew Skinny Leather Belt, Abercrombie & Fitch Dawn Skirt (Similar here), Matt Bernson Bo Peep Espadrilles
Of course, because this jacket is cropped, you can't wear it with a top that's cut on the shorter side. Then it just looks like you're wearing a jacket that's a bit too short and maybe not the right size. I imagine this is cutest with a top that will be longer than the jacket, paired with a shorter bottom. Or maybe a top tucked into a high-waisted pencil skirt. Will have to try that one. Lucky for me, it's a no-brainer to pair with dresses and I have a ton of those.
I'm wearing: Ann Taylor Loft Ruched Halter Dress, Nine West Getby Wedges
I just wish it was Spring or Fall and not Summer, because it is wayyyy too hot right now to be wearing any kind of jacket out. I got my usual shirt size in this jacket (a 6), and the arms a slightly too tight but I think maybe I just have plump arms.
I highly recommend this jacket, especially at the insanely dirt cheap price of $39.99. Get it here from J.Crew now before it sells out!