The new Brushstroke Mini from J.Crew is now one of my favorites from the new collection for summer. I bought it not having read too much on it in the blogosphere mainly because (I assume) this skirt is catalog/web only, and not many people are willing to take the risk in purchasing blind.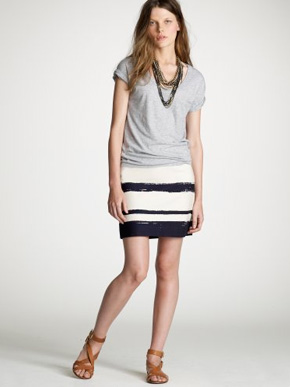 Well, I did! And am I glad I did. I sized up for a bit of length, since this skirt is said to be only 16″. The material looks just like a painter's canvas, sort of a light basketweave. Matches up perfectly with the huge brushstrokes. It feels light and very comfortable, but most importantly, I think it looks so chic even paired with a simple tee.
I'm wearing: J.Crew Vintage Cotton V-Neck Tee, Matt Bernson Bo Peep Espadrilles
I don't think it's too short – do you? At $79.50, this skirt is pretty pricey, but I don't want to wait until middle or end of summer for it to go on sale because this is the perfect summer skirt! So…I say everyone go get this skirt here at J.Crew!