There was some buzz in the blogosphere when J.Crew debuted the Ruched V-Neck Dress. Touted to flatter everyone yet be extremely comfortable, this dress has some serious potential. I wanted to buy one in every color!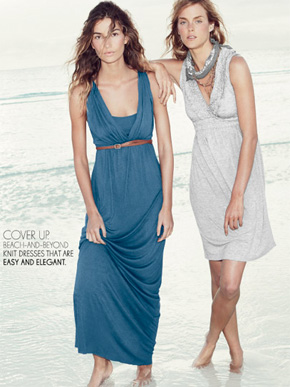 But I ended up only buying Abyss Blue and Navy. I figured I'll buy the other 2 if I end up loving these as much as I thought I would. Well, what can I say about this dress? Contrary to the description on the J.Crew site, it does not "hug you" in "all the right places." In fact, I would say it hugs everything from the bust up, then from the bust down it drapes straight down like a big tube. Since my bust/ribcage is almost the same width as my hips, it really just looks like a straight up-and-down tube from the bust down; my waist is in there but you'd never know it.
I'm wearing: Nine West Getby Sandals
I was not too happy with this. Can we say completely and utterly unflattering? Damn. Not sure what I expected since I knew it was empire waist, but I was disappointed nonetheless. Let's address some concerns I've heard from the other ladies. First, I don't think it's too low cut, at least enough to be inappropriate for the office. The v-neck actually does not dip as low as the band under the bust, plus the small ruffling there definitely makes it feel very "held-in" and not noticeably low-cut. I was planning on wearing a cami under this, but now I don't think it's actually necessary. This dress is also – unlike some of the crazy short skirts from J.Crew recently – a great, flattering length, hitting me right above my knee. The fabric is also super slinky and soft, making it a pretty substantial weight. Here's a picture of the Navy color. Kind of cute when paired with gold. Cuter than the Abyss Blue I think.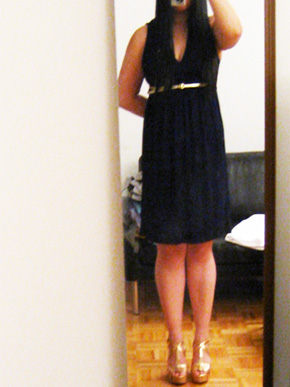 Now I do think this dress can work with a bit more work. I figure if you throw on a cardigan of some sort, it'll hide the tube-ness of the dress and the unflattering shape from the bust down.
I'm wearing: J.Crew Featherweight Cotton Tipped Pocket Cardigan, J.Crew Patent Oval Buckle Belt, Nine West Getby Sandals
…And I think it works! Maybe it's just because of how much I absolutely adore this cardigan (I'll post a separate post on it later), but it really covers the flaws of the dress while preserving what I like about it – flattering bust, comfort, and perfect length. All in all, I would recommend this dress but maybe just one. Get it from J.Crew here for $59.50. Pretty cheap price for J.Crew dresses!