As promised, here is my review of the new J.Crew Featherweight Cotton Tipped Pocket Cardigan. Now if I had done a review of it last night right after I got it, it would probably be very different from this review after a full day of wear, but let's talk about the pros and cons of this sweater.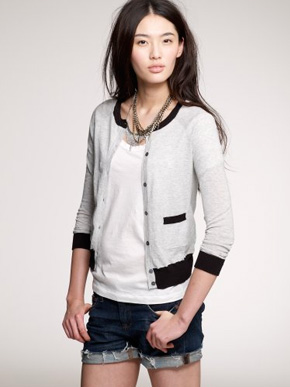 This sweater is frickin' adorable. I knew it would be from the pictures. It's a very unique looking sweater. It adds fun and interest to an outfit as much as a printed cardigan would, but without sacrificing the neutrality and match-with-everything quality I look for in sweaters. I can pair this with a printed skirt if I wanted whereas I would incur some serious print clashing if I instead wore another printed cardigan. To me, this sweater totally gives off that posh, well-dressed, preppy vibe. Love it and want to wear it with everything.
I'm wearing: J.Crew Sequin Stripe Henley, Banana Republic Pique Pencil Skirt, Nine West Getby Wedges
So I wore it today with the Ruched V-Neck dress I debuted yesterday on here. My minor fear of this sweater's flaws came true. What is the flaw, you say? Featherweight cotton. Oy. Is featherweight crewspeak for thin and flimsy? This sweater is so thin that just pulling it on and off, I can feel it stretching out. By the end of the day, this thing had lost a lot of its shape. I have a habit of pushing up my sleeves when I know I'll be typing something for a while, and at the end of the day, I had these big floaty arm tubes loose around my forearms. I had to keep pushing them up just to avoid the sloppiness of floaty arm tubes. Oy. There is no real weight to this sweater ("feather" weight, har har) so it doesn't really drape or hang, it just kind of clings to whatever fabric you're wearing underneath. At the end of the day, I was no longer really loving this sweater when I looked in the mirror. It didn't look as fitted and instead looked kind of like a loose box. Here's another picture of this cardigan buttoned up, pre-stretch-out.
Ugh, so frickin' cute. If only it would stay that way. Now the silver lining is…this cardigan is machine washable, so hopefully after I throw it in my next load of laundry, it'll revert back to its original cuteness. Get it here from J.Crew for $68.