Words cannot describe how woefully disappointed I was by the Diamond Flame Skirt that arrived today from Anthropologie. I've been drooling over this skirt since it first came out, obsessively stalking the product page every single day, debating whether I can really trump out $170 for a skirt I don't really need. I finally pulled the trigger and purchased the tank and the skirt modeled in the catalog. I just reviewed the tank yesterday (love it) but this skirt is probably my biggest clothing disappointment thus far this year. Why? Oh let me list the ways. Or maybe a picture speaks a thousand words.
I'm wearing: Anthropologie Coil Flower Tank, Nine West Entire Sandals
Ok – WTF is that? Seriously. Those ain't my hips. Is this a pencil skirt or a tulip skirt or just a poorly designed blob of fabric? Ok let's start from the beginning. I pulled this thing out of the tissue and immediately noticed the fabric is a thin, light cotton. No lining, even though the description says there is a silk lining. No real weight. The skirt was wrinkled and seems easy to wrinkle. I was like, "I paid $170 + $12 shipping for this thin, unsubstantial skirt?? It better be cute on." Not a questionable hope, since the tank turned out to be cute enough to offset its average quality. Well, I pulled it on and man, I looked like I pulled on a giant lantern. The waistband fits me well right at my natural waist, but the rest just…float. The fabric is so light and unsubstantial there is nothing to pull it down so it drapes nicely over my hips. Instead, it kind of just puffs out from the fitted waistband. As soon as you move (see right picture above), you can tell how thin the material is. The whole thing just looks incredibly cheap and poor. And look at how flattering it is from the side!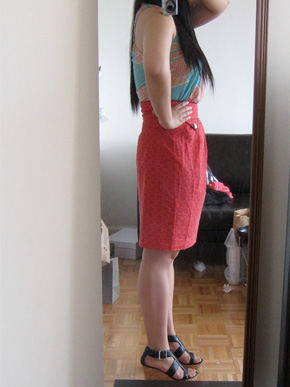 So apparently it not only puffs to the side, it puffs in the front too. Not surprising. There's no weight to hold it down. Here are some more pictures of the skirt itself.
I don't know what I was expecting, but for $170 I figured it had to be a thick, substantial fabric that drapes beautifully. Hence I was surprised to even see the tiny box it came in, and even more surprised when I saw it was practically a shirt disguised as a skirt. Even the zipper is cheap – it's plastic and doesn't smoothly zip up. It feels so flimsy I feel like any ungentle tug and it'd die.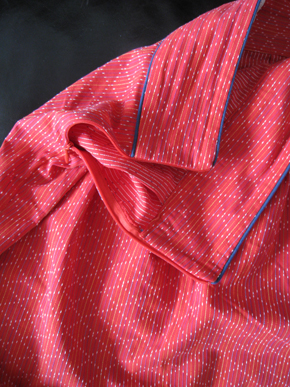 For the sake of every girl out there who I know has been pining away for this skirt for weeks at least, I hope the poor fit is just on me. I'm sure it will work for someone, just not me. And just for sizing, I got a size 6, which fits my waist fine but not my 37″ hips. If you want to try this one for yourself, get it here for $168. Good luck.