I had my eye on J.Crew's Sunshine Peony Pencil Skirt for a while, but wasn't sure I was girly enough for such a feminine print, especially in a body-hugging pencil skirt. I think my instinct was right on. I just don't think I'm girly enough for a print pretty enough to be named Sunshine Peony, but I can see how stunning it would be on the right person.
I also learned something else – pencil skirts are not exactly for me. I don't have a huge waist-to-hip ratio so when I wear a tucked-in outfit, I look like I have no waist. Also, I know a lot of women are okay with the "pouch" thing happening with your stomach/lower belly in pencil skirts when you look at it from the side or if you move at all, but I'm not a huge fan of that.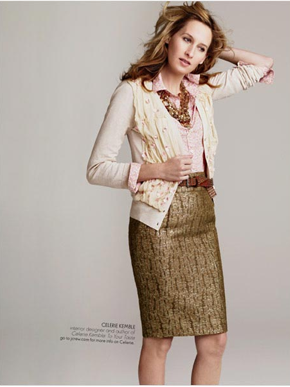 If it's happening for this gorgeous, thin woman in the J.Crew catalog (though yes, technically she is a "real" woman), it's going to happen to me. It probably happens even when you have zero fat there – perhaps just a consequence of your ab/hip area being a separate area from where your legs start. Anyway, I'm not a fan of that going on down there – either from the side or when I move at all. Maybe if I sized up? I don't know. Maybe if the Sunshine Peony print worked for me, I'd bother doing the exchange and seeing, but I just don't think this is a winner for me. Oh, and the fact that pencil skirts make it all too obvious I have no butt makes it even more clear to me that I should just stay away.
My usual size zips up fine but definitely felt tight. I probably would've been more comfortable with a size up. Get your Sunshine Peony Pencil Skirt from J.Crew here for $98.
EDIT (4.27.10): So…I bought this skirt again since it went on super sale at J.Crew. This time I bought a size up and though some of the same problems are still there (shows the "bump" in the front, I still have no butt, etc.), the larger size really made a difference. I think.