When I saw the Metallic Moss Jacquard skirt online at J.Crew, I think I gasped. I don't know what it is, but I am a huge sucker for gold skirts and pleated skirts. The combination is so killer for me. Unfortunately, the price is also killer. J.Crew justifies its $178 price tag by claiming that the jacquard material comes from a "world famous mill" in the Lake Como region that supplies woven fabrics to all the top couture houses. That's great and all, but….almost $200 for a skirt?! I held off and lurked, hoping someone online would do a review and I would hate it. Unfortunately, since this skirt is online/catalog only, I bet most ladies out there were just like me, unwilling to pull the $200 trigger on a blind purchase. Well, someone's got to take the lead and see whether this skirt is worth any fuss.
Look how cute it looks on the J.Crew models!
When the skirt came, it looked just as I expected.
Up close shot of the fabric – relatively substantial, a lot of sheen, very pretty. Not sure why there was a pink knot coming out of the skirt, but I cut it off and that was that.
First thing I noticed about this skirt that made me nervous was the wrinkling that happened on the back of the skirt just from my dropping it on the couch for 10 minutes while I changed. Delicate material, it seems. Very high maintenance.
When I threw it on, I realized the pleating doesn't quite work in real life. At least on me. It almost looks like the skirt may be too big for me, and that's why the pleats don't exactly "spread out" as they do on the J.Crew chicks, but the waist and hit fit me perfectly and snugly. So I'm not really sure what the problem is. Definitely not love at first sight. Kind of reminded me of big banana leaves.
I'm wearing: J.Crew Slub Cotton Tee, J.Crew Equestrian Belt
Then I thought, maybe if I actually moved around and my legs weren't standing close together, I can "fan" out the pleats a bit more? Nope, didn't really work….
Then I thought, maybe the tee being over the skirt is taming the pleats a bit too much and causing them to be unable to "spread." So I tucked in my tee. Do you see a big difference? Not sure I do.
As I was taking these pictures, I started looking at this skirt for what it is rather than what I thought it should be according to the J.Crew catalogs. Spread-out-pleats be damned, this skirt looks pretty darn cute as is! Something about the subtle gold sheen reminds me of summer, especially paired with a white crisp tee and sandals. But I can also imagine it as a great fall/winter/holiday skirt, paired with tights and a cardigan. Able to be dressed up or down, this skirt was transforming into a real winner in my eyes. I threw on a long cardigan to confirm its potential for fall.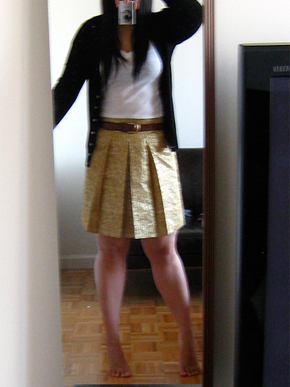 Ugh, it was impossibly cute. I have to keep it. Now how to justify the huge price tag? I have a feeling this one is going on sale since I expect many ladies to be quite reluctant to pull the trigger. I shall be lurking on the J.Crew site until that day. If you want it now, get it here for $178.