I should've written about this sale sooner, but I was too caught up in agonizing which pieces to pick up myself. I think this sale is ending soon but since it's no longer on the homepage, just search for "Gorjana" and you should still see all the goodies for at least another day. I was just telling someone today about Gorjana and how it's one of my favorite jewelry brands, when I realized it actually IS my favorite brand, period. Their pieces are all so understated and elegant, yet still so eye-catching, on trend but not too trendy, and all in the perfect hue of brilliant gold. Plus the prices are affordable. Here are some pieces from the sale I'm coveting — let me know if you pick up any!
Gorjana Mesa Pendant Necklace & Gold Vista Long Pendant Necklace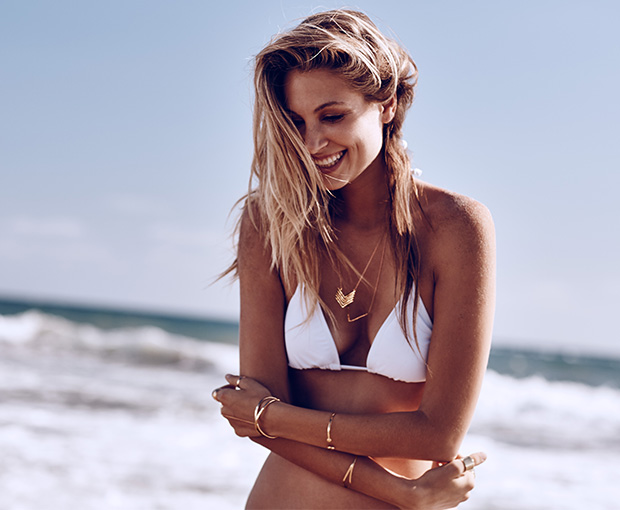 These two are often paired together and I love that. The Mesa necklace reminds of the ever popular Madewell Arrowstack necklace, except it simplifies it with one solid gold color throughout, and instead of it hanging long, it dangles quite sexily right above the cusp of your cleavage. The Vista necklace dangles about 2 inches below it as a perfect, simple, classic complement. Each one is about 50% off right now. Get the Mesa Necklace here for $55 and the Vista Necklace here, also for $55.
Gorjana Chevron Pendant Necklace
(Source: Color Vanilla)
This chevron necklace has long been a favorite of many bloggers. It's truly a Gorjana classic, designed when chevrons became on trend and to this day is still in style, simple, and versatile enough to match just about everything. Get it here for $39, down from $80!
Gorjana Chevron Lariat Necklace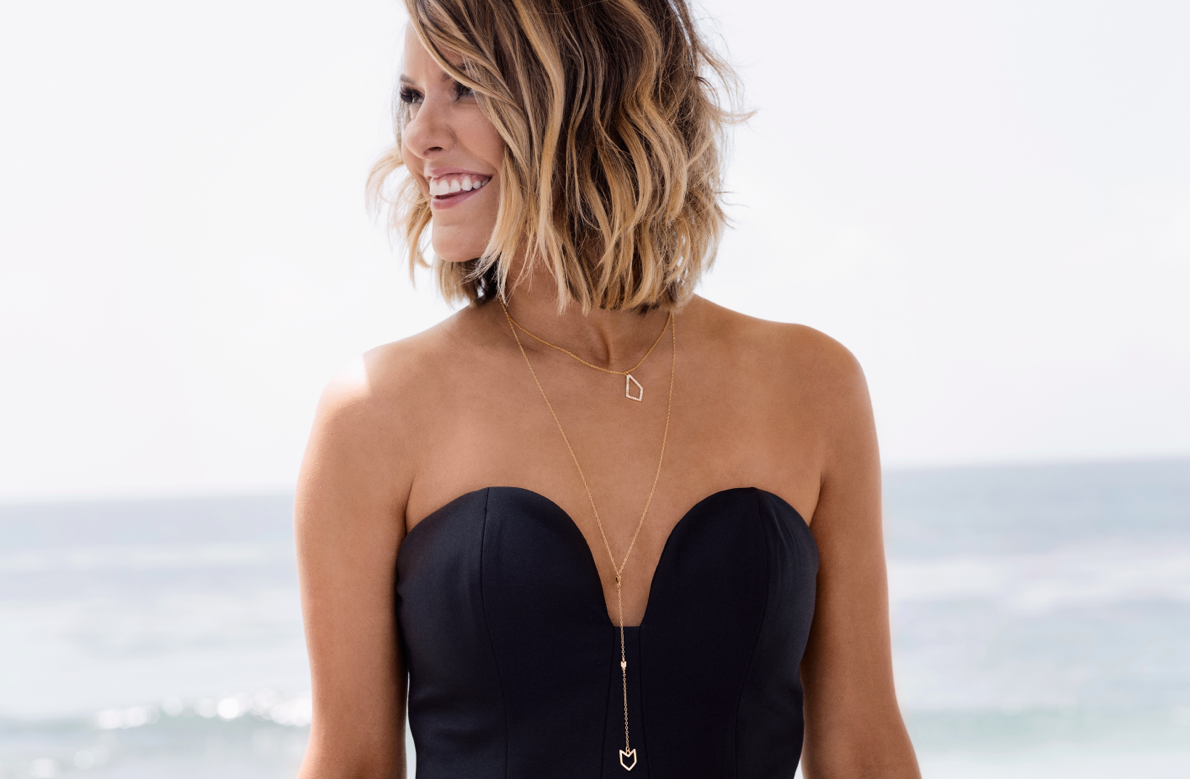 (Source: thecourtneykerr.com)
I've been obsessed with this necklace for over a year. I love that it's a long necklace but it's so dainty, drawing the eye down until you finish off with an adorable mini chevron. It's understated sexy. The only tricky part about a dainty long necklace like this is finding the right canvas to really showcase it and not have it be lost amongst a busy print other accessories. The way Courtney wears hers is absolute perfection. It's currently only $39, down from the original $80. Buy buy buy!
Gorjana Super Star Lariat Necklace
(Source: Catchingcouture.com)
This super star lariat necklace is simple adorable. Like other Gorjana's lariat necklaces, it's very dainty and leads to a cute finish, with the series of stars in decreasing size. The stars rest in the perfect location, helping to draw the eye down to the girls for an innocent, sexy look 😉 I've seen many pictures of bloggers wearing this beautiful necklace and no one does it better than Michelle from Catchingcouture.com. LOVE the pairing of the stars with the red, white and blue, showing us that you don't need a low-cut top to show off a lariat. Get it here for just $39, down from $80.