Looks like it's a bit late for me to be doing a review on the Field Game Cardigan from Anthropologie, since it seems to have sold out. However, since the site has popbacks all the time, I wouldn't be surprised if it popped back quite a few times.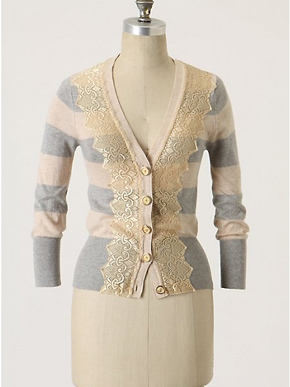 The sweater had a weird musky smell to it so I did not have a great first impression. However, the material is substantial and feels like a high quality sweater. The buttons also were substantial and did not feel flimsy. I was worried about sizing, but I got a Medium and it fits fine, even buttonable. I would not size up.
I'm wearing: Ann Taylor Loft Foil Finish Pencil Skirt, Banana Republic Dahlia Wedges
I totally love it. It's such an unique cardigan. Feminine but not dainty, despite the lace. Must be the fresh, bright gold buttons that remind me a bit of the classic gold buttons you typically see on men's blazers. I am stalking the Anthro site regularly now, hoping to catch a popback in the navy color.
Get it here from Anthropologie for $59.99 on sale.